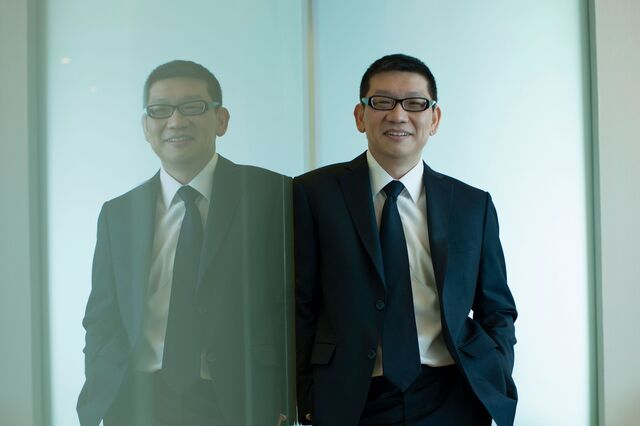 Lim Chow Kiat, a 44-year-old man with a calm demeanor and a dimpled smile, is known as someone who doesn't stray from his habitual ways.
Friends and colleagues say Lim -- group chief investment officer of GIC Pte, Singapore's sovereign wealth fund -- has kept his hair short and worn the same style of square, black-framed glasses for as long as they can remember.
"He probably looked exactly the same when he was a child," says Lam Poh Min, who used to sit next to Lim before leaving GIC in 2004 to co-found Singapore-based Octagon Capital Management Pte, one of the first quant hedge funds in Asia.
These days, Lim's role at GIC is all about breaking old habits. He and his boss, Group President Lim Siong Guan, 67, are steering GIC through a major overhaul designed to squeeze higher returns from the fund's investments, Bloomberg Markets magazine will report in its January issue.
With the exception of President Lim, none of GIC's top eight executives has been on the executive committee for more than five years; that includes Lim Chow Kiat, who became group CIO in 2013.
Since then, GIC has moved away from the endowment model of strategic asset allocation it had followed for a decade. In the process, it's become one of the world's most aggressive sovereign wealth funds. It can now pounce if an opportunity worth capturing comes along, as in the case of GIC's investment in New York's Time Warner Center in early 2014.
'Fair Return'
Like investors of all stripes, GIC is fighting against the tide of slowing global growth and low interest rates.
What's more, GIC is under demographic pressure as manager of part of the Central Provident Fund, the savings plan that is meant to provide retirement income for Singaporeans.
The city-state's citizen population of 3.3 million is aging fast; the median age will rise to 47 years by 2030 from 39 in 2011, according to the government's National Population and Talent Division.
"The challenge is to give individuals a fair return on their retirement savings but avoid exposing them to more risk than they can bear," Finance Minister Tharman Shanmugaratnam said in parliament in July.
A private, secretive firm set up in 1981 by Lee Kuan Yew, who was Singapore's first prime minister for 31 years, until 1990, GIC has grown into one of the 10 largest funds of its kind in the world.
'Idiosyncratic Opportunities'
It's ranked sixth largest by the London-based Sovereign Wealth Center and eighth largest by the Las Vegas–based Sovereign Wealth Fund Institute. The research firms say GIC manages $315 billion to $320 billion; GIC says only that it manages "well over $100 billion."
Sovereign Wealth Center Director Victoria Barbary says that in the first six months of 2014, GIC made 33 direct investments with a total value of $4.65 billion.
"With the new investment framework, GIC is looking for idiosyncratic opportunities," Barbary says.
GIC found a niche in e-commerce and technology investments before other sovereign wealth funds did, she says. In July, for example, GIC invested an undisclosed amount in Flipkart.com, India's biggest online retailer.
"GIC is incredibly sophisticated," Barbary says. "It's way ahead of some of its peers."
GIC, the first sovereign wealth fund not built on oil riches, is emblematic of Singapore itself, an island cluster with no natural resources that's a third the size of Luxembourg.
Strong Reputation
Lee Kuan Yew, who was GIC chairman during the fund's first 30 years, shaped Singapore into one of the world's richest economies.
Lee, now 91, has fashioned the country into a tightly controlled state with an open economy. He's encouraged foreign investment and emphasized discipline, efficiency and meritocracy in a region mired in corruption and poverty.
Like Singapore -- the only nation in Asia with AAA ratings from Fitch Ratings, Moody's Investors Service and Standard & Poor's -- GIC has built a strong reputation in financial circles. The firm started investing in private equity and real estate in the early 1980s, ahead of its rivals.
"Their savvy investment team consistently demonstrates a strong understanding and view of changing markets, sectors and geographies," says David Bonderman, co-founder of Fort Worth, Texas–based TPG Capital, which has been an investment partner of GIC. "This has enabled them to make timely investment decisions that allow us to jointly capitalize on global opportunities."
Bridgewater Associates
Ray Dalio, founder of Westport, Connecticut–based Bridgewater Associates LP, the world's largest hedge-fund firm, says his business has benefited from its 20-year symbiotic relationship with GIC, "exchanging ideas and generating high levels of profit."
"What makes GIC run well is that the people have a deep sense of responsibility to take care of the country's money as though it was their own," he says.
Early signs of change came to GIC in 2009, when Lim Siong Guan was appointed to the new position of GIC president, two years after joining the firm as group managing director.
Lim says the decision to review the fund's investment approach came in the aftermath of the global financial crisis.
GIC poured 11 billion Swiss francs ($11.2 billion) into UBS Group AG in December 2007. The following month, it spent $6.88 billion on Citigroup Inc. securities.
The subprime mortgage meltdown in the U.S. hit those investments hard. While GIC's Citigroup investment has generated a profit of $1.6 billion, GIC has said its timing on UBS could have been better.
Active Approach
"With the global financial crisis, you obviously have to sit back and think, 'What can we learn?'" President Lim says. "'What is it that we can do better going forward?'"
As the new strategy came into effect in April 2013, GIC shifted away from its traditional asset-allocation strategy to a more active approach. Its fund managers can now deviate from GIC's portfolio if there's an opportunity to beat the market.
"The way of generating returns through holding diversified assets and just kind of waiting would not work well anymore," CIO Lim says.
Aje Saigal, a former CIO of global equities who left GIC in 2012 after 31 years to set up GIC-seeded Nuvest Capital, says that as an independent thinker, CIO Lim is well suited to the revamped GIC.
"In investment discussions, he was willing to challenge the consensus view," he says. "That's a rare quality."
Direct Deals
GIC is now working with more than 100 private-equity managers to source deals and co-invest. It has direct investments in more than 100 companies and is plowing more and more money into direct deals such as Netshoes SA, a Brazilian online sporting goods retailer.
Since the end of 2013, GIC, already one of the world's top 10 investors in real estate, has purchased not only an undisclosed stake in the Time Warner Center but also a 50 percent share of the Broadgate complex in London's financial district and full ownership of the office component of Tokyo's Pacific Century Place Marunouchi.
GIC also agreed to buy Chicago-based IndCor Properties Inc., one of the largest owners of U.S. industrial real estate, together with Global Logistic Properties Ltd. from Blackstone Group LP for $8.1 billion. The purchase is expected to close in the first quarter of 2015, the two co-investors said in a Dec. 8 statement.
The new strategy reflects GIC's DNA, says Octagon Capital's Lam, a computer science graduate recruited by GIC in 1995 to help start its quant team two years later.
'Best Ideas'
"They're consistently trying to be at the forefront by adopting the best ideas from around the world," he says.
GIC looked very different at the time of its birth.
In 1981, Goh Keng Swee, a former deputy prime minister who became GIC's deputy chairman, persuaded then–Prime Minister Lee to set up a company to manage the fast-growing city-state's burgeoning foreign reserves.
Goh, who died in 2010 at 91, was known for his obsessive focus on clarity and simplicity, and he encouraged his underlings to follow suit.
Tan Huck Khim, who joined GIC's private-equity team in 2000, says he'll never forget the time he submitted his first report. His supervisor took the 35-page document and, dismayed by its content, tore it up. Recounting the story, Tan, now a managing partner at private-equity firm Komodo Venture, mimics his boss's exasperation.
'Cardinal Objective'
He says the discipline he learned at GIC has stayed with him: "I am what I am because of GIC."
In GIC's early years, the government ran it as a rainy-day fund.
"My cardinal objective for GIC was not to maximize returns but to protect the value of our savings and earn a fair return on capital," Lee said on the occasion of GIC's 25th anniversary in 2006.
Five years later, on GIC's 30th anniversary, in his last public speech as GIC chairman, Lee urged the fund to take bold, strategic and forward-looking decisions.
"As GIC grows larger and more established, the impetus to follow conventional practices will grow stronger," he said at an anniversary dinner. "This could lead to mediocrity."
In 2012, GIC began a major review of its investment strategy -- only the second such examination since the fund's inception.
Subway to Work
President Lim, a veteran of 37 years in government who occupied a number of senior positions, served as principal private secretary to Lee from 1978 to 1981 when Lee was prime minister. Lim was head of the Singapore civil service from 1999 to 2005. In 2014, he published a book on leadership based on his experiences, "The Leader, the Teacher & You."
In Lim's professional achievements and personal behavior -- taking the subway to work, for example -- "he leads by example and earned his trademark integrity and humility," says Tan Chin Hwee, a Singapore-based founding partner for Asia at buyout firm Apollo Global Management LLC.
Another of Lim's traits is staying focused on what's ahead. His mantra to employees: "Be in time for the future."
To help carry out the review, GIC sought advice from a handful of prominent financiers, including G. Leonard Baker, a partner at Sutter Hill Ventures LP in Palo Alto, California, and Robert Litterman, a former chairman of Goldman Sachs Asset Management's quant strategies group.
Pioneer Model
And GIC looked halfway around the world -- to Toronto -- for pointers. The Canada Pension Plan Investment Board, which manages C$234.4 billion ($204.9 billion), pioneered the so-called opportunity cost model of active investment. Under this model, more complex and costly investment opportunities are evaluated against the foregone opportunities to invest in low-cost, passive stocks and bonds portfolios.
"The new approach gives us the flexibility to pursue whatever investment opportunity comes along," President Lim says. "We didn't have that previously."
GIC even installed David Denison, the Canada Pension Plan's CEO from 2005 to 2012, on GIC's international advisory board in 2013.
GIC's 20-year nominal annual rate of return for the year ended on March 31 was 6.5 percent in U.S. dollar terms. That compares favorably with its nominal annual return of 5.7 percent during the 20 years through March 31, 2009 -- a period that encompassed the global financial crisis.
For the year ended on that date, GIC experienced a loss of more than 20 percent in Singapore dollar terms.
Early Luster
GIC's recent performance suggests the fund is recovering some of the luster of its early decades: From 1981 to 2006, GIC's average annual return was 9.5 percent.
For the most part, GIC has been free of public controversy. In May, a posting by a 33-year-old blogger named Roy Ngerng on Prime Minister Lee Hsien Loong and the management of CPF money prompted Lee, who is also GIC chairman, to file a suit against Ngerng.
The blogger apologized to Lee and offered to pay S$5,000 ($3,780) in compensation. Lee rejected the offer. There were at least three anti-CPF protests at Hong Lim Park in downtown Singapore.
On Nov. 7, Singapore's High Court ruled that Ngerng had defamed Lee.
"I am disappointed as I have never intended to defame the prime minister," Ngerng wrote on his blog that day. The court said it would set damages at a later date.
Black Box
For Singaporeans, GIC until recently remained something of a black box, its inner workings little known to them. The fund didn't release any data on returns until 2006. It started releasing an annual report in 2008.
Bridgewater's Dalio, who is known for fostering a culture of what he calls "radical truth and radical transparency" at his firm, has seen GIC expand into a powerhouse with investments in 40 countries and 1,200 employees in 10 offices around the world.
"GIC's biggest challenge will be to foster a culture of creative independent thinking and thoughtful debate," Dalio says.
In the 37th-floor lobby of GIC's headquarters at Capital Tower in Singapore, an aphorism from late GIC Deputy Chairman Goh is inscribed on a wall.
CIO Lim can recite it from memory: "The more you save and the more wisely you invest, the faster you get rich." Lim says, "It sounds so simple." He smiles and adds an aphorism of his own: "But simple things are hard to do."
Before it's here, it's on the Bloomberg Terminal.
LEARN MORE