Sainsbury Jumps After Report It May Become Activist Target
Paul Jarvis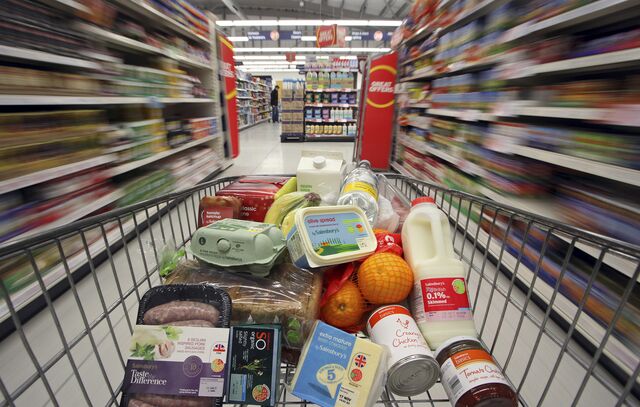 J Sainsbury Plc rose to a two-week high after the Sunday Telegraph reported that a U.K. activist fund is in discussions with several overseas investors about buying shares in the supermarket chain.
Sainsbury shares climbed as much as 3.7 percent in London, the highest intraday price since last month, valuing the company at about 4.7 billion pounds ($7.3 billion). The stock has lost about 34 percent this year, weighed down by falling sales as supermarkets cut prices to combat the expansion of discounters Aldi and Lidl.
Crystal Amber Fund Ltd. is looking at acquiring a stake in Sainsbury worth "tens of millions of pounds" after being approached this year by a U.S. investor interested in buying a holding in the grocer, the Sunday Telegraph reported, without citing anyone. Nicola Swift, a spokeswoman for London-based Sainsbury, declined to comment. Crystal Amber didn't respond to a call seeking comment.
The fund has written a 60-page report on Sainsbury looking at the business climate faced by the supermarket operator and the potential deals that could increase company value, the newspaper said. The report concluded that the most attractive of several options would be a sale-and-leaseback program, the newspaper said. Crystal Amber confirmed that it had compiled a report, the Telegraph said.
"Looking to build a stake in Sainsbury and force it to sell off freehold properties seems like a bull-market story, when it's painfully clear that supermarkets are in a bear market," Nick Bubb, an independent retail analyst in London, said by e-mail.
Sainsbury shares pared their initial gains, trading 0.8 percent higher at 240.2 pence as of 11 a.m.
Crystal Amber is seeking to convince other activist investors to buy Sainsbury shares as it isn't in a position to force any major changes on its own, the Sunday Telegraph said.
Qatar has been the U.K. grocer's largest shareholder since making an unsuccessful takeover bid in 2007, and still owns almost 26 percent of Sainsbury's shares.
Before it's here, it's on the Bloomberg Terminal.
LEARN MORE