Rousseff Picks Lose Policy Choices After Commodities Bust
Juan Pablo Spinetto and Anna Edgerton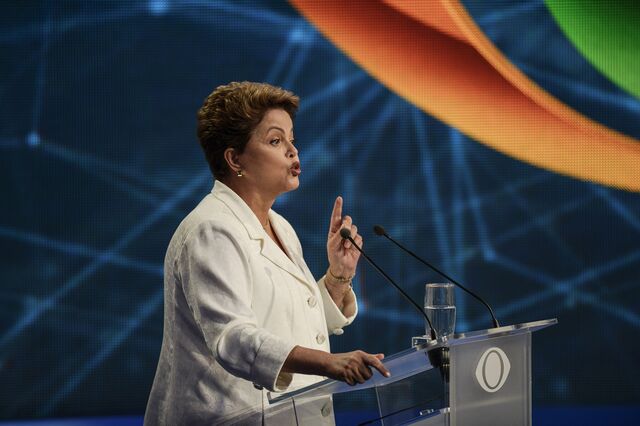 When Dilma Rousseff became Brazil's first female president four years ago iron-ore prices were booming, Petroleo Brasileiro SA had just held the world's biggest share sale and Eike Batista was wooing Wall Street.
Now, as she appoints new ministers for a second term, the commodities pendulum has swung. Iron's slump is putting some producers out of business, Petrobras faces record debt amid a corruption scandal and plunging crude prices and Batista is trying to avoid going to jail on insider-trading charges. The China-like growth Rousseff leveraged to reduce poverty has evaporated and the first trade deficit in 14 years is looming.
For Brazil's natural-resources industries, the end of the commodities super-cycle probably will come with a silver lining in the form of less onerous regulations and policies, said Joao Augusto de Castro Neves, an analyst at Eurasia Group.
"These constraints will push them into a situation to have a slightly more constructive policy-making direction," he said by telephone from Washington. "This is not driven out of conviction, it is driven out of necessity."
Rousseff is already giving some signs of policy relief.
On Nov. 27, she appointed Joaquim Levy, a University of Chicago-trained economist and head of asset management at Banco Bradesco SA, as finance minister. The appointment is good news for producers that depend not only on industry-specific policies but also on macroeconomic fundamentals such as currency and interest rates, according to Eric Farnsworth, vice president of the Council of the Americas.
'Good Signals'
"The people they're appointing are good signals that show the Presidency is looking to make the economy a priority, recognizing that there are some challenges," Farnsworth said by phone from Washington. "They're going to have to make decisions on where they allocate the resources available."
Rousseff, who during her re-election campaign promised to rekindle growth, will name this month Senator Katia Abreu, of the Brazilian Democratic Movement Party, as agriculture minister, according to government officials familiar with discussions. Abreu was the first woman to lead the Agriculture Association, the biggest agriculture lobby group in Brazil, and will take over as the worst drought in decades punishes the world's top exporter of coffee, sugar and beef.
"Abreu has always been on the side of the producers," Luiz Cornacchioni, executive director of Brazil's agribusiness association, said in a phone interview. "Besides knowing the sector well and defending its interests, she has all the characteristics to be a great minister."
More Active
Rousseff will also name a replacement for Edison Lobao as mining and energy minister as early as this week, according to two people with knowledge of the matter. Depending on discussions with the president's political allies, she could appoint Eduardo Braga, also of the PMDB, the officials said.
Most of Rousseff's cabinet choices -- including Armando Monteiro, the former president of the National Industry Confederation, as trade minister -- will be more aggressive in defending the interests of their industries than their predecessors, the officials said.
Last month, the government allowed Petrobras to increase fuel prices giving the state-run producer some relief from her inflation-fighting policies. Petrobras booked more than $44 billion in operating losses at its refining unit during Rousseff's first term mainly from selling fuel at below-market prices and became the world's most indebted oil producer.
Mining and oil are among Brazil's fastest growing industries while commodities make up half Brazil's exports, a share that has doubled in the past 20 years.
Oil Rout
Petrobras is investing $221 billion between 2014 and 2018 to accelerate production at the largest oil discoveries in the Western Hemisphere in almost four decades. The company assumes a Brent crude price of $100 a barrel for 2015-2017 and $95 from 2018-2030 in its 2030 strategic plan. Brent crude is down 39 percent this year to $67.20 a barrel.
The state-run oil producer's break-even price for projects in the pre-salt region is $41 to $57 a barrel, Chief Executive Officer Maria das Gracas Foster said on June 2, according to a statement on Petrobras' website. The company, which included a $45 break-even cost in its 2014-2018 business, declined to comment on the effect of lower prices.
Total SA, Europe's second-largest oil company, would review drilling plans for Brazil if prices remain at the $70 to $80 per barrel level in two years, Denis Palluat de Besset, the company's general director for the Latin American country, told newspaper Folha de S.Paulo in an interview published yesterday.
There is a 70 percent chance that during her second term Rousseff will relax some rules in the oil industry to lighten the burden on Petrobras and allow private companies to take on more more in pre-salt fields, Eurasia's Castro Neves said.
Winning Trust
The government needs to encourage private investment by recovering companies' trust, according to consultant David Zylbersztajn from DZ Negocios em Energia SA.
"We need to attract new companies because the government lost the capacity to invest by itself," Zylbersztajn, a former regulator who helped set up Brazil's first exploration auctions when Petrobras's monopoly was broken in the 1990s, said. "There is a problem of predictability and credibility, which the government has lost."
The press office of Brazil's presidency didn't respond to an e-mail and phone call seeking comment.
"At this juncture of the international financial crisis, with the drop in commodity prices, especially oil, the challenge of development is even greater," Rousseff told last week's Unasul meeting in Quito. "We have historic promises before us, work which will be crucial for our future."
Iron Glut
Revenue from Brazil's top exporting products, soybeans and iron ore, declined 56 percent and 41 percent, respectively, in October from a year earlier as prices slid on a supply glut and slower growth from China. Overseas sales from Latin America's largest economy contracted 5.7 percent between January and November, prompting the government to review its forecast for the year to a deficit from a small surplus. This would would be Brazil's first negative annual trade result in 14 years.
Iron-ore prices, which traded above $160 a ton when Rousseff became president in early 2011, fell by more than half to $69.80 as producers including Rio Tinto Group and Fortescue Metals Group Ltd. expanded mines in Australia during years of higher prices. Brazil, the world's largest exporter of the steelmaking ingredient in 2007, now ships almost half the volume of Australia after imposing stricter permitting rules that delayed expansions.
Logistic Constraints
While Vale, the biggest iron-ore miner, had record-high production in the third quarter, smaller ventures like the mining unit of steelmaker Usinas Siderurgicas de Minas Gerais SA halted exports as high costs priced the company out of the seaborne market. The price slump also led rival Gerdau SA to review an expansion plan and MMX Sudeste Mineracao SA, Batista's main mining business, to file for bankruptcy protection after stopping operations at its only producing unit.
"A series of iron-ore projects that were announced I don't think they will take off," said Wilson Brumer, a former Usiminas CEO. "The small mining companies don't have any incentive to export because they don't have their own railway and port logistics."
With lower commodity prices, it's more important than ever for Brazil to fix its infrastructure and reduce the cost of doing business, Farnsworth said. When producers have tighter margins, what they most need from the government is investment in improving the logistics for getting product to market and in research and development to increase productivity.
Stock Plunge
"Brazil has to focus on the longer term response and work on improving competitiveness," Farnsworth said. "This is the hard work of economic development."
Stock investors have suffered too. The MSCI Brazil Materials index, which includes the country's top natural resources companies from Vale to pulpmaker Klabin SA lost 72 percent in the past four years, compared with a 24 percent decline by the Ibovespa index.
"The party is over," said Roberto Castello Branco, a director at the Center for Growth and Development Studies of the Fundacao Getulio Vargas in Rio de Janeiro. "This is yet another problem to add to the ones the Brazilian economy already has."
Before it's here, it's on the Bloomberg Terminal.
LEARN MORE