Rockefeller Patek Philippe Watch Could Fetch $200,000 at Auction
By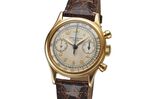 Christie's might sell watches out of New York City's Rockefeller center, but on Dec. 11, Antiquorum will sell a Patek Philippe watch gifted by Nelson A. Rockefeller himself. The ref. 1463 chronograph is a hot watch even before provenance comes into play.
This watch dates to 1956, meaning it likely sat at a retailer waiting for a home for a few years before it was given to Rosell B. Perkins in 1959 after the then-governor's first year in Albany. The two men had worked together for over a decade and both served in President Dwight D. Eisenhower's Sub-Cabinet. When Rockefeller was elected Governor of New York, he appointed Perkins as his Counsel. The watch's screw-down caseback is engraved "R.B.P / Jan. 1 - Mar. 25, 1959 / N.A.R" to commemorate the occasion.
The Watch
The reference 1463 chronograph was Patek Philippe's first waterproof chronograph, though it's much better suited to a beach chair in front of Hotel Carleton than taking a dip. From its introduction in the early 1940s through the release of the reference 5070 in 1998, it was the only waterproof chrono made by Patek. As with many mid-century classics, the 1463 came in a variety of dial and case configurations with the vast majority produced in yellow gold. In this way the watch here is typical, but it has the much-desired Breguet numeral dial instead of one with more pedestrian stick markers or numerals at only 12 and 6.

The hands appear to be all original -- the time is told with the gold hands while the blued steel hands are for the chrono function -- and the distinctive starburst pattern on the pushers is still relatively crisp for an almost 60-year-old watch. The dial is clean and shows an appropriate amount of wear, but the case has clearly been polished more than most collectors would like. The sides and bezel still have their shape, but the lugs appear a little soft and undefined from an overzealous trip to the polishing wheel.
While the movement is fully intact and the critical components are fine, Antiquorum recommends that the buyer have the movement fully serviced. For a watch like this, that could cost thousands of dollars and could require the buyer to hand their new trophy over to a watchmaker for months (for people whose primary business is time, watchmakers are a slow bunch).

The Estimate
Lot 275 carries an estimate of $150,000 to $200,000. A nearly identical watch (sans goodwill from a public servant, but in better physical condition) sold at Christie's in Hong Kong in May 2012 for $188,981. It is difficult to say whether or not the provenance of this model will offset the state of the case, allowing it to reach this price.
Before it's here, it's on the Bloomberg Terminal.
LEARN MORE