Rio Police Probing 'Illegal' Uber Amid Car Seizure Threat
Tariq Panja and Juan Pablo Spinetto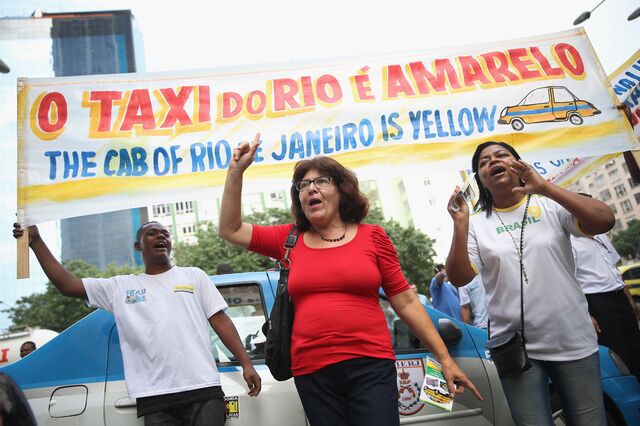 Drivers for Uber Technologies Inc., the mobile car-booking company valued at $40 billion, are operating illegally in Rio de Janeiro and risk having their cars seized, according to the city's transport office.
Rio's municipal transport department, or SMTR, said it has filed a complaint with police against Uber and similar companies it says haven't requested licenses for taxi services in the city, which will host the 2016 Olympics. The head of Rio police's cyber crime unit is investigating the allegations, the police said via e-mail.
"The SMTR already sent a letter to the police to conduct an investigation," it said a statement yesterday. The service offered by Uber is "illegal" because it is "paid transport without proper licensing" and drivers risk having their cars seized, the statement added.
Uber said it hasn't received any notification from authorities in Rio and is looking forward to working with policy makers on "common sense" regulation.
The service has grown rapidly since starting in San Francisco in 2010. It's now available in more than 250 cities around the world and last week raised $1.2 billion in funding, increasing the company's $17 billion valuation in June to $40 billion.
'Framework'
"The current regulatory framework does not contemplate private car services used and loved by Cariocas, and does not take consumer choice or the ubiquity of smartphones into account," Uber said, referring to the residents of Brazil's second-largest city.
Growth hasn't come without problems. Officials in Delhi banned Uber from the Indian capital after one of its drivers was accused of rape two days ago. In June, taxi drivers in London, Paris, Berlin and Madrid, among other European cities, protested against the startup, saying Uber had an unfair advantage because it didn't follow the same licensing regulations. The city of Portland, Oregon, yesterday sued to stop the service three days after it started operations there.
"The risk to the population is that drivers of these apps do not undergo the same criteria or meet requirements that a taxi driver regulated by the city has to follow, such as the presentation of a criminal record, liability insurance and annual inspection on vehicles," the Rio city transport department's statement added. "These apps do not guarantee passenger the safety that a regulated taxi system provides."
Uber adheres to the strictest safety standards possible, it said on its website.
Diminished Business
Rio's main taxi cooperatives are discussing a possible joint complaint and are reviewing their legal options, said Djalma Sales Barbosa, president of Transcoopass, a taxi cooperative that operates with about 180 drivers in Rio.
Business at Rio's international airport has diminished "significantly" since the arrival of Uber, Barbosa said. "It's a threat. This is creating a huge imbalance to the professionals who've worked at the airport for the past 50 years."
Uber's backers include Goldman Sachs Group Inc. and Google Ventures. The company is now valued at four times that of other elite Silicon Valley startups, such as Airbnb Inc. Uber's value also dwarfs Tesla Motors Inc., which has a market capitalization of $26.8 billion. General Motors Co., the largest U.S. automaker, has a $52.6 billion value.
"All Uber ride sharing and livery partners must go through a rigorous background check that leads the industry," Uber's website says. "Screening for safe drivers is just the beginning of our safety efforts. Our process includes prospective and regular checks of drivers' motor vehicle records to ensure ongoing safe driving."
Before it's here, it's on the Bloomberg Terminal.
LEARN MORE