Prosecutor Disputes Pistorius Murder Acquittal, Sentencing
Andre Janse van Vuuren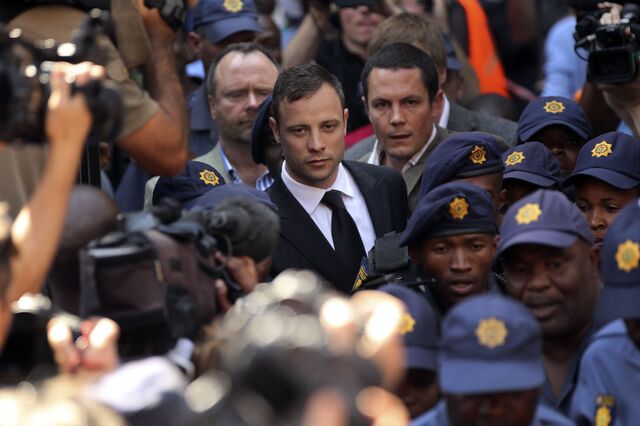 Oscar Pistorius's acquittal on murder charges for killing his girlfriend Reeva Steenkamp was wrong and an effective 10-month prison sentence for manslaughter is "shockingly inappropriate," Prosecutor Gerrie Nel said.
Nel presented his application for an appeal of Pistorius's manslaughter conviction and sentence for killing Steenkamp on Valentine's Day last year at the High Court in Pretoria, South Africa's capital. Pistorius fired four hollow-point bullets threw his bathroom door at what he said he believed was an intruder. Judge Thokozile Masipa will decide tomorrow if the request, opposed by the defense, is granted.
Masipa cleared Pistorius, 28, of murder charges in September before convicting him of culpable homicide for Steenkamp's death after an eight-month trial. She sentenced him to a five-year prison sentence in Pretoria's Kgosi Mampuru prison that can be commuted to house arrest after 10 months.
"His consequences and the actions didn't carry much with the court in arriving in its sentence," Nel said. "It is an innocent woman that was shot dead in the most horrendous manner."
Nel said the court "erred" in dismissing the murder charge because Pistorius must have known that his actions would result in the death of the person in the locked toilet cubicle. Even if the court believed that manslaughter was the correct verdict, Pistorius should have been sentenced to prison for at least 10 years, he said.
Gold Medals
Known as the Blade Runner because of his J-shaped prosthetic blades, Pistorius was the first double-amputee runner to compete in the Olympic Games. His trial was broadcast live on TV and radio and drew a worldwide audience.
Barry Roux, the defense lawyer, said the judge had already made a factual finding that Pistorius couldn't have foreseen the consequences of shooting through the door.
"The problem is they don't like, they don't appreciate, your factual finding," he said.
Neither Pistorius nor any of his family members were in the wood-panelled courtroom today.
The court will only grant the application if there's a reasonable prospect for success, Marius du Toit, a criminal defense lawyer at Du Toit Attorneys in Pretoria, said by phone yesterday.
"A mere possibility isn't good enough; there has to be a reasonable prospect of success," he said.
Born without fibula in both legs, which were amputated when he was 11 months old, Pistorius won six Paralympic gold medals.
Before it's here, it's on the Bloomberg Terminal.
LEARN MORE