Obama Pal Declared Hostile Witness in Illinois Fraud Trial
Eric Whitaker has not been charged with wrongdoing, but prosecutors say he hasn't cooperated fully.
By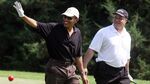 One of President Barack Obama's closest friends was declared a hostile witness by a federal court judge Monday and may be called to testify in an Illinois fraud trial.
U.S. District Judge Richard Mills ruled that Eric Whitaker could be labeled as hostile, if called to testify, after the Chicago medical executive answered questions for more than two hours in a courtroom without the jury present, the Chicago Tribune and Chicago Sun-Times reported from Springfield, Ill. The designation gives prosecutors more leeway in their questioning if they do call Whitaker to the stand, a decision that hasn't been made.

On the witness stand, Whitaker expressed frustration with prosecutors and said the government's pursuit of grant fraud cases has been racially motivated, the Sun-Times reported.  "Almost everybody who's been indicted or scrutinized has been African American," the newspaper quoted Whitaker as saying.
Whitaker, part of a tightly knit group from Chicago's South Side that's remained close to the president throughout his administration, met Obama when they were studying at Harvard.  The two golf together and Whitaker's family has joined the Obama family on Christmas-season vacations to Hawaii.
Whitaker isn't charged with wrongdoing, but prosecutors say he hasn't fully cooperated. They've also alleged he has refused to answer questions "concerning his personal relationship" with his former chief of staff, who has pleaded guilty to bribery, theft and obstruction of justice, the Tribune reported. 
Marj Halperin, a Whitaker spokeswoman,  had no comment on Monday's courtroom action. In a statement issued late last week, she said: "Dr. Whitaker is not a party to this case, but he has been cooperative. If called as a witness, he'll answer questions truthfully. Because of this potential of serving as a witness, it would be inappropriate to share any further details through the media."
The case in question is the trial of Leon Dingle Jr. and his wife, Karin Dingle. The couple is accused of stealing more than $3 million in state grants obtained from the Illinois Department of Public Health, according to the Chicago Sun-Times. Whitaker ran the department from 2003 to 2007.
While in the state post, Whitaker oversaw the awarding of about $4 million in health-related grants and contracts to Dingle, who received an additional $7 million in taxpayer cash from Whitaker's successor, the Sun-Times said. The judge had previously agreed with prosecutors that there's "significant evidence" Whitaker has ties to Dingle.