Mizuho CEO Poised to Join Peers With Higher Dividend
Monami Yui and Shingo Kawamoto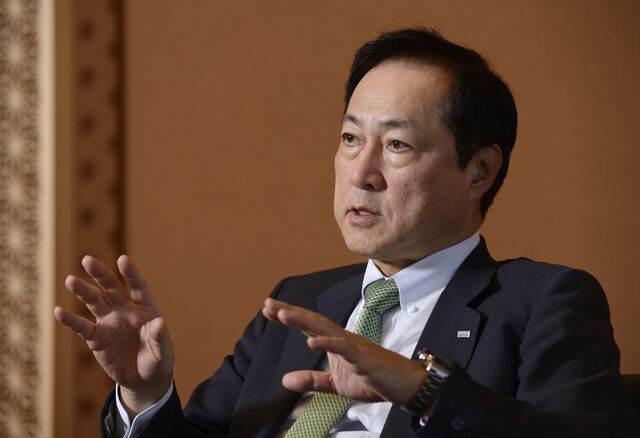 Mizuho Financial Group Inc. Chief Executive Officer Yasuhiro Sato signaled he will probably increase dividends if full-year profit exceeds the lender's 550 billion-yen ($4.5 billion) forecast.
Japan's third-biggest bank by market value would raise the planned dividend of 7 yen a share for the year ending March to keep a pledge of a 30 percent payout ratio, Sato, 62, said in a Dec. 2 interview in Tokyo.
"That's our promise," he said. "If annual profit comes in at 600 billion yen or 650 billion yen, that would naturally lead to a dividend increase." Mizuho has already achieved 65 percent of its profit goal after posting net income of 355.3 billion yen in the first half, led by gains from bond trading.
Japanese banks, which have been less generous than global peers in sharing earnings with investors, are now beginning to boost returns. Mitsubishi UFJ Financial Group Inc. last month said it will spend as much as 100 billion yen buying back shares and raised its planned full-year dividend. Sumitomo Mitsui Financial Group Inc. also upgraded its cash payout plan.
"We give the first priority to dividends," said Sato. "But in a few years, there may be a time when we combine a dividend increase with a share buyback" if capital piles up.
The three so-called megabanks paid an average 22 percent of profit to shareholders in the year ended March, data compiled by Bloomberg show. That trailed the 48 percent mean dividend payout ratio at the world's 40 largest lenders by market value for which data are available.
Loan Squeeze
Sato said he wants to boost income from brokerage and trust-banking businesses and continue expanding abroad as domestic loan growth remains too weak to make up for shrinking interest rates. While Tokyo-based Mizuho is on course to beat its annual earnings forecast, profit fell 17 percent in the first half from a year earlier.
"Lending isn't very profitable in Japan," he said.
The average gap between deposit and loan rates at the megabanks' lending units narrowed by eight basis points to a record 1.17 percentage points in September from a year earlier, according to earnings filings last month.
Shares of Mizuho were unchanged at 205.5 yen as of 9:45 a.m. in Tokyo, while the benchmark Topix index dropped 0.6 percent. Mizuho has slid 9.9 percent this year, more than the 86-stock Topix Banks index's 1 percent decline.
Abenomics Effect
Sato said Prime Minister Shinzo Abe will accelerate his overhaul of the economy if his Liberal Democratic Party triumphs in an election on Dec. 14.
"If Abe can win the public trust, Abenomics will speed up," he said. "The clear effect we've seen so far is a change in the deflationary mindset among Japanese people. I'd like the government to devote all its energy into reviving Japan's economy in the four years following the election."
Abe called the election to secure a fresh mandate for his three-pronged strategy of fiscal spending, monetary easing and deregulation after Japan slipped into its fourth recession since 2008. The economy shrank an annualized 1.9 percent in the third quarter, revised government figures showed yesterday, more than the 1.6 percent announced last month.
While the economy is contracting, a Mainichi newspaper poll last week indicated Abe's LDP may achieve a two-thirds majority in the lower house vote.
Mizuho is seeking investment opportunities to expand overseas, Sato said. He's interested in commercial banks in Asian countries such as India, Indonesia, the Philippines and Thailand, the CEO said, without naming targets. Buying a U.S. regional bank wouldn't be a viable investment, he added.
Overseas loans at Mizuho rose 9.2 percent from a year earlier to $163 billion as of September, according to its earnings data. Mizuho bought 15 percent of state-owned Joint-Stock Commercial Bank for Foreign Trade of Vietnam, known as Vietcombank, for about $560 million in 2012.
"Investing in Asian banks is worth considering even if it's a minority stake purchase," said Sato. "We're always looking at possible deals."
Before it's here, it's on the Bloomberg Terminal.
LEARN MORE