Merck's Knockout Cubist Bid Should Fend Off Rivals
Tara Lachapelle and Brooke Sutherland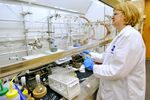 Merck & Co.'s offer for Cubist Pharmaceuticals Inc. may be just steep enough to deter rival bidders.
Merck says it's paying $102 a share, or about $9.5 billion including net debt for the maker of antibiotics. The price is more than 40 times the profit Cubist earned before interest, taxes, depreciation and amortization in the 12 months through September. That ranks among the 10 most expensive drug-company takeovers this decade, according to data compiled by Bloomberg.
The need for antibiotics that can fight medicine-resistant superbugs has put companies such as Cubist near the top of drugmakers' shopping lists. Cubist already has one major remedy on the market and plans to introduce four more by 2020. While analysts also saw Pfizer Inc., Shire Plc and Astellas Pharma Inc. as logical bidders, Merck may have the most to gain because its infectious-disease program can be used to market Cubist's treatments and develop new ones. And at this price, it likely knocked any other suitors out of the competition.
"I'm a little bit surprised Cubist was able to get Merck to go over $100 a share," Brian Skorney, a New York-based analyst for Robert W. Baird & Co., said in a phone interview. "I don't think anything Cubist has is so attractive that other companies are going to jump in here and say, 'This is something I just have to have.'"
Bidding wars for biotechnology companies aren't uncommon so investors tend to drive up their stock prices on the day a deal is announced. With Cubist, that isn't happening.
Cubist shares closed at $100.60 yesterday, below Merck's bid, which is a sign that traders were betting the transaction gets done.
Court Ruling
Today, the stock fell 4.4 percent at 10:33 a.m. in New York after Cubist lost a bid to block Hospira Inc. from offering a generic version of Cubicin, its top-selling treatment for flesh-eating infections, beyond 2016.
Merck said in a statement that it still believes the acquisition will create value for its shareholders and expects it to be accretive starting in 2016.
Merck's big check will give it access to Cubist's pipeline of new drugs, which analysts project will help almost double the company's $1 billion in revenue by 2018. Regulators in the U.S. will make a decision soon on whether to approve Cubist's Zerbaxa, which treats complicated urinary tract infections.
Because the ultimate market success of Zerbaxa and other drugs isn't clear, other buyers may be wary of topping Merck's offer, Irina Rivkind Koffler, a New York-based analyst at Cantor Fitzgerald, wrote in a report.
Potential Bidders
Merck is paying more than double the median of 16 times Ebitda for pharmaceutical and biotechnology acquisitions larger than $1 billion struck since 2004, data compiled by Bloomberg show.
"We ran a comprehensive process and a market check to ensure this was in the best interest of our shareholders," said Cubist Chief Operating Officer Robert Perez, who will take over as chief executive in January, before the deal closes. "There was interest from other companies." He declined to identify the other bidders or say how many there were.
Pfizer and Eli Lilly & Co. were probably among the most likely to have expressed interest. In August, analysts said Cubist's products would be complementary to Pfizer's infectious-disease operations, while new legislative efforts to revive the antibiotic market could also draw Eli Lilly to the bidding table.
Shire, with its focus on rare illnesses, and Astellas, which treats infectious diseases, were considered possible suitors as well.
Best Partner
A representative for New York-based Pfizer declined to comment on whether it was considering a bid for Cubist, as did a representative for Tokyo-based Astellas. Representatives for Indianapolis-based Eli Lilly and Dublin-based Shire didn't respond to requests for comment.
Merck, with its antibiotic and antifungal experience, is the best partner for Cubist, said Adnan Butt of Royal Bank of Canada.
"It makes the most sense for Merck," Butt said by phone. "With their history, the Cubist pipeline and their own pipeline, it would be the optimal combination for making new products targeting the space and obviously for Cubist, commercializing existing ones."
Before it's here, it's on the Bloomberg Terminal.
LEARN MORE