Let's Move: Obama Chef Sam Kass Is Headed to NYC
He's spent six years in the White House kitchens, but now he's headed to New York.
By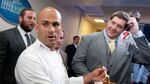 Sam Kass has more titles than can comfortably fit on a single business card, including executive director of Michelle Obama's Let's Move Initiative and the White House senior policy advisor on nutrition. As personal chef to the first family, he's also been "assistant chef in charge of family meals" and "food initiative coordinator." But now he's in search of another.
The White House announced Monday that Kass was leaving his job after six years. The timing was the news, not the departure itself. Ever since his engagement to MSNBC's Alex Wagner—the couple married in August—Kass acknowledged he would eventually move to New York, where he will "remain engaged with the First Lady's Let's Move! initiative and the continuing effort to advance childhood nutrition," according to the White House. 
And hopefully he'll open up about what he's been cooking at 1600 Pennsylvania Avenue. For all his celebrity–hosting Elmo in the kitchen, and being the hottest foodie ever to stand on the hallowed lawn (and hoe it)–Kass has not released many recipes. The dishes we do know of aren't exactly drool-inspiring: turkey wrap with hummus and cheddar cheese; White House Grilled Garden Pizza (eggplant, red bell pepper, whole wheat crust, low-fat mozzarella–ie, the kind of composition you won't find in New York's best spots).
Will he run a restaurant? He hasn't been in that realm since 2006, when he worked at Chicago's Avec. And it's a different task than creating a nightly dinner for four, even those four make up the world's most famous family.
Until he announces his plans, here's a look back at his highlights in D.C.
March 2009
Broke ground on the White House Kitchen Garden
May 2010
Created a program paring chefs with schools "to bring fun to fruits and vegetables, and teach kids about food, nutrition and cooking in an engaging way."
September 2012
Made the first alcohol brewed or distilled on the White House grounds: White House Honey Brown Ale.
Appeared on school lunch episode of Food Network's "Chopped."
Joined inaugural Diplomatic Culinary Partnership's American Chef Corps, the State Department's program for showing off American food and drink to foreign visitors and audiences abroad. 
January 2013
Met food blogger (and model) Chrissy Teigen at an inauguration event. 
July 2014
Denied speaking role at School Nutrition Association's convention. According to Politico, the association thinks the federal government is going too far in its push for healthier meals (kids don't like the food, and don't eat).
His successor will be named in the new year.