Let's Move: Obama Chef Sam Kass Is Headed to NYC
He's spent six years in the White House kitchens, but now he's headed to New York.
By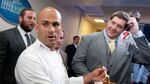 Sam Kass has more titles than can comfortably fit on a single business card, including executive director of Michelle Obama's Let's Move Initiative and the White House senior policy advisor on nutrition. As personal chef to the first family, he's also been "assistant chef in charge of family meals" and "food initiative coordinator." But now he's in search of another.