Le Bernardin's Casual Aldo Sohm Wine Bar Isn't Transportive, But It Is Busy: Review
By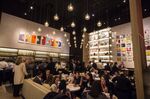 I had to get past a few things to enjoy Aldo Sohm Wine Bar, the new drinking hole from the owners of Le Bernardin. First the entrance, which is hidden in an office plaza off 51st Street, through the brassy revolving doors that lift people off midtown sidewalks and spit them into corporate lobbies and medical centers. Then the horrifying, elevator-style instrumentals droning on in the dining room, some familiar song neutered beyond recognition.

But once I was settled on the giant u-shaped sofa with a spinning tower of charcuterie, things improved considerably. There was soft lardo to smear on baguette slices, truffle-flecked duck liver mousse, slices of spicy, oregano-heavy salami -- many kinds of salami, actually -- plus ribbons of sweet, poached ham ($45). This is precisely the sort of set up you want with friends over a glass of wine, or a dry Swiss cider from Cidrerie du Vulcain that smells like a bakery first thing in the morning ($15).

Like its peer Kappo Masa, another recent satellite from a high-end restaurant, Aldo Sohm Wine Bar is a ready-to-wear line from Le Bernardin, and the bar draws many of the same clients for shorter, less expensive evenings. What Aldo Sohm does far better than its peer is to make itself accessible to a less spendy clientele. The bar offers a relatively affordable menu -- no ossetra by the ounce, no lobster in brioche. The wine list has Easter eggs, but it is not snobby, with plenty of bottles under $50, and glasses that start at $10.
Young men and women from nearby offices towers are here by six to eat chicharrones and clink glasses of Patagonian Pinot Noir, while discussing this week's "How to Get Away with Murder," and couples who may not go in for the set lunch at Le Bernardin can fuel up on beer and grilled chorizo sandwiches ($12) before wandering over to ogle the Matisse cut-outs.

Sohm, the Austrian-born sommelier is a co-owner with Eric Ripert and Maguy Le Coze, and has built out the bright, high-ceilinged room with stuff he likes. Zalto glasses -- featherlight, angular, also Austrian -- upgrade the experience of sipping in a way that is hard to describe. Once you get over the fear of snapping their delicate stems, the glasses are an absolute pleasure to tip back. Keith Haring prints plaster the walls, and there is a stack of Food & Wine magazines, though most of them are weirdly from 2012.

Some of this can make the room feel stodgy and out of touch, but the crowd in metallic sweaters and turtlenecks (under blazers) appears very comfortable, and Sohm knows them well. He has been the head sommelier at Le Bernardin since 2007 and knew better than to incorporate restaurant design tropes like backless industrial-style stools or artfully arranged vintage farm gear. Instead there are hangers for your coats, wide leathery backs on every chair, and extra cushions all over the sofa.

What makes a sommelier great isn't just a compression of knowledge, a finely tuned palate, or the ability to seduce and sell. The best find ways to connect with diners and make them happy. I love the kind of sommelier who will pour you a taste of some mind-boggling white Burgundy, in their T-shirt and pre-torn jeans, and do away with just some of the pomp. But I suppose sommeliers are like therapists: The one who worked magic for me might not be well suited for you.

When Sohm is in the house (he moves back and forth between the wine bar and the restaurant, which is on the same block) he dotes on diners who want him in their orbits, pouring flights of Nebbiolo and talking about each with affection. But on two of my visits, I happened to have someone else -- a baby-faced guy with a sweet, Labrador-like enthusiasm for Louis Roederer's non-vintage champagnes. Though he wasn't operating at the caliber of a fine dining sommelier, and he seemed a little nervous when my table asked him questions, he was so nice it didn't matter too much.

There is some inconsistency when it comes to the cooked food, which can seem more like it's capitulating to petulant regulars' requests than presenting a cohesive idea. The whole cauliflower ($12) is visually stunning, an orb with every last tendril dark and crisp. But there was a lingering unpleasant flavor -- of chicken skin taken a little too far, to the point of tasting bitter. And such an enormous vegetable, which requires sawing like a steak, isn't ideal for a party of two sipping wine before dinner.

Eric Fricker, a former Le Bernardin sous chef, is in the kitchen and there are many North African influences on the menu, including an excellent dish of tender carrots in a bright, spicy broth ($8.50). The pita bread is decorated with a delicious and comically small merguez, though the bread itself can be a bit wet and floury ($6.50). My main complaint is that salads tended to be overdressed and bruised, the dressings flat. Take, for example, the duck confit salad, very sweet and served with mealy apple slices ($15). A careless salad is always devastating, but it's worse at an offshoot of Le Bernardin, where the standards are so high.

During the day, Aldo Sohm can be eerily quiet and slow -- not nearly as busy as Chop't, the salad and wrap joint filled with suits just next door. But by six in the evening, the bar is consistently packed. Sure, you will have less coddling here, less glamor, less formality than at Le Bernardin or its lounge, but you won't really need it. It is not a place to be transported, but to eat cocktail-size boudins blanc and sip very good wine.

Tejal Rao is the New York food critic for Bloomberg. Follow her on Twitter @tejalrao and Instagram @tejalra or contact her at trao9@bloomberg.net

Rating: Two Stars (Very Good)


What to order: Charcuterie tower ($45); Roasted spiced carrots ($8.50); boudins blanc ($8.50)


What to drink: Wine by the glass from $10 to $90 (don't worry, that 2003 Chateau d'Yquem is being kept fresh with a Coravin), plus beers in the $8 range; crisp, complex Swiss cider from Cidrerie du Vulcain ($15); bottles of Beaujolais and Blaufränkisch; the flight of the month, currently three 3-ounce pours of Nebbiolo ($30)


Need to know: The wine bar plans to sell Tibetan yak cheese by the ounce, but so far hasn't been able to clear customs with a full wheel. For now, you can get a small taste of it crumbled onto the fresh pasta.


Who's next to you: Book editors carrying Filson briefcases; young professional women in tailored suit jackets; grey-haired couples who sink very slowly into the sofa; Le Bernardin regulars with an hour or two to kill

Aldo Sohm Wine Bar is at 151 W 51st Street (Midtown); +1 212 554-1143 or aldosohmwinebar.com

Before it's here, it's on the Bloomberg Terminal.
LEARN MORE