Japan's Recession Is Worse Than We Thought—but Abe Will Still Win Big
By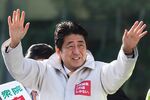 Why isn't Japanese Prime Minister Shinzo Abe worried? He is facing the voters on Dec. 14 at a time when his economic program seems to be in a shambles. Ever since an Abe-approved tax increase took effect in April, Japan's economy has been contracting, and today brought news that the recession is even worse than it initially seemed. The economy shrank an annualized 1.9 percent in the third quarter, compared with initial data showing a contraction of 1.6 percent. The latest report reflects "a pretty bleak picture of Japan's economy," Taro Saito, director of economic research at NLI Research Institute in Tokyo, told Bloomberg.
But even the latest setback for Abenomics isn't likely to cause any problems for the campaign of Abe and his Liberal Democratic Party. Like Israel's Benjamin Netanyahu, another unpopular prime minister who has called early elections during troubled times, Abe may not be well liked by the electorate, but he has the advantage of running against weak opposition. A new poll by the Mainichi newspaper has the LDP possibly increasing its seat count in the lower house of parliament, perhaps enabling Abe's party to ditch its current coalition partner and rule with a two-thirds majority.
Abe can thank Banri Kaieda, the president of the Democratic Party of Japan, for his good fortune. Abe is fortunate enough to be up against a politician "who is extremely uninspiring," says Jeff Kingston, director of Asian Studies at Temple University Japan. It's not just Kaieda who's the problem for the opposition. "He represents a party that's not ready for prime time," says Kingston.
The DPJ broke the LDP's nearly uninterrupted postwar monopoly on the prime minister's office in 2009 and quickly fumbled by backtracking on a pledge to make the American military give up its base in Okinawa and then flubbing the response to the devastating earthquake and tsunami in March 2011. "The opposition is completely unpopular," Viktor Shvets, head of Asian strategy at Macquarie Securities, told Bloomberg Television. "Almost any policy and almost any politician would be able to win."
Abe is certainly putting that "any policy, any politician" proposition to the test. If the LDP does win a big victory on Sunday, he'll probably move more aggressively on policies that are priorities for him—and unpopular among many Japanese. For instance, Abe wants to restart nuclear power plants that have been offline since the Fukushima disaster, but public opinion polls show a majority of Japanese oppose restarting them.
Other unpopular policies that Abe wants to pursue include changing the pacifist constitution inherited from the days of General Douglas Macarthur. With a stronger mandate, Abe might even make progress on long-promised "third arrow" economic reforms to open up Japanese labor markets and make it easier for employers to fire workers, another policy that many voters don't want.
"Every one of Abe's signature policies is overwhelmingly opposed by the Japanese," says Kingston. Still, given the sorry state of the DPJ, Abe is likely to cruise to victory anyway. "The problem is," adds Kingston, "there is no viable alternative."
Before it's here, it's on the Bloomberg Terminal.
LEARN MORE