Italian Bond's Rating Ignored as Yields Drop to Record
David Goodman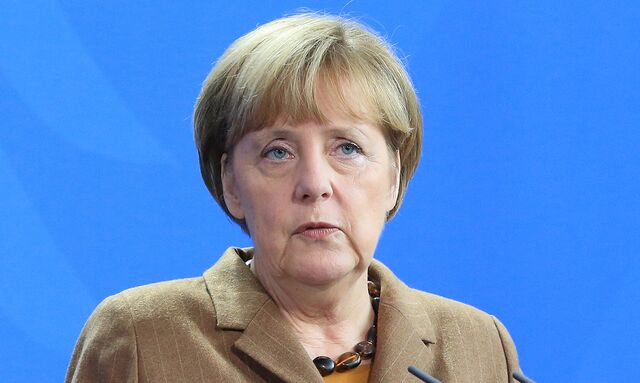 The drop in Italy's 10-year bonds that followed a Standard & Poor's downgrade of the nation lasted less than a morning amid speculation the European Central Bank will start buying sovereign debt as soon as next month.
At midday in Rome, Italian securities had already recovered from a decline that sent 10-year yields as much as five basis points higher. By the close, further gains in the price of the bonds had pushed borrowing costs to a record low.
Government bonds from Germany to Spain also rose after ECB President Mario Draghi said last week officials would act should current stimulus be seen as insufficient when it's assessed early next year. A round of targeted longer-term loans from the ECB to banks this week, part of stimulus plans intended to add as much as 1 trillion euros ($1.23 trillion) to the institution's balance sheet, won't even cover the repayments they owe from a previous program, according to a Bloomberg survey of analysts.
"It's a familiar pattern," said Richard McGuire, head of European rates strategy at Rabobank International in London. "Any selloff on the back of a ratings move is generally seen to be a buying opportunity given the constructive outlook for liquidity. Near-term one would expect there is room for a narrowing of periphery spreads as QE is fully priced," he said, referring to quantitative easing, or central-bank purchases of government bonds.
Yields Drop
Italy's 10-year yield fell three basis points, or 0.03 percentage point, to 1.943 percent at the 5 p.m. London close. The rate touched 1.942 percent, the lowest since Bloomberg started tracking the data in 1993. The price of the 2.5 percent bond due in December 2024 rose 0.31, or 3.10 euros per 1,000-euro face amount, to 105.11.
The rate on similar-maturity Spanish debt dropped five basis points to 1.79 percent and touched a record-low 1.785 percent, while that on benchmark German 10-year bunds fell seven basis points to 0.71 percent, having reached 0.69 percent on Dec. 1, the least on record.
S&P lowered Italy's unsolicited long-term rating to BBB-, with a stable outlook, from BBB, on Dec. 5, citing weak growth prospects and high public debt. The revised rating is one level above junk, or non-investment grade, status. A drop into that category would prevent some investors from being able to hold Italian securities.
The yield difference, or spread, between Italian and German 10-year yields widened three basis points to 1.23 percentage points, after narrowing to as low as 1.16 percentage points on Dec. 5. That was the least since 2010.
French Performance
Investors routinely ignore ratings companies' decisions. In almost half the instances, yields on government bonds fall when a rating action by Moody's Investors Service and S&P suggests they should climb, or they increase even as a change signals a decline, according to data compiled in 2012 by Bloomberg on 314 upgrades, downgrades and outlook changes going back as far as the 1970s.
France's 10-year yields touched a record-low 0.955 percent last week, even though the nation has been stripped of its AAA rating by both companies. The rate fell six basis points to 0.97 percent today and that on Irish 10-year bonds dropped to a record of as low as 1.327 percent. S&P raised Ireland's credit rating one level on Dec. 5.
Bond Returns
Italy's government securities returned 15 percent this year through Dec. 5, Bloomberg World Bond Indexes show. Spain's also earned 15 percent and Germany's 8.5 percent as the ECB cut interest rates and implemented stimulus measures to avert deflation, spurring demand for fixed-income assets.
Euro-area banks will borrow about 148 billion euros in the ECB's targeted longer-term loans, or TLTROs, on Dec. 11, which are designed to spur lending to the real economy, according to the median estimate in a survey of 24 analysts. Predictions ranged from 90 billion euros to as much as 250 billion euros.
Between now and February, banks must repay 270 billion euros of outstanding loans issued at the end of 2011 to alleviate the effects of the euro area's sovereign debt crisis.
ECB Governing Council member Ewald Nowotny said in Frankfurt today that there is a "high probability" inflation will slow further next quarter because of a slump in energy prices. Draghi's comment last week that policy makers discussed all assets except gold for any potential QE program was "a bit widely formulated," he said, adding "we're thinking specifically about government bonds."
The price of Brent crude oil slid as much as 4.6 percent to $65.93 a barrel in London, the lowest since October 2009.
Volatility on Dutch bonds was the highest in the euro area today, followed by those of Austria and Germany, according to measures of 10-year debt, the yield spread between two- and 10-year securities and credit-default swaps.
Dutch 10-year yields dropped six basis points to 0.83 percent. The rate on equivalent Austrian bonds also fell six basis points, to 0.84 percent, before the Vienna-based financing agency auctions 880 million euros of securities due in October 2024 tomorrow.
Before it's here, it's on the Bloomberg Terminal.
LEARN MORE