Hachette Wants to Turn Twitter Into a Bookstore
On the heels of its feud with Amazon, Hachette is experimenting with using the social network as a new way to sell books
By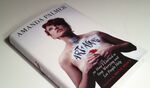 On the heels of a nasty dispute with Amazon.com over the sales of e-books, Hachette is cultivating the growth of a new online bookseller: Twitter. Over the course of the month, the publisher will use Twitter's new "buy" button to sell a limited number of books by musician Amanda Palmer, astronaut Chris Hadfield, and writers at the Onion. The titles sold through Twitter will come packaged with limited-edition souvenirs, such as a signed manuscript page from Palmer's book.
Hachette is the first book publisher to begin using Twitter as a retail platform, and the limited effort reflects a wider desire to turn social networks into shopping sites. Both Facebook and Twitter are experimenting with buttons that allow users to make purchases directly from their sites, although neither company was able to ramp up for a full-scale launch in time for the holiday season. Twitter's investors in particular have been anxious for the company to create new ways to make money. The makers of books, music, and other products with highly developed fan bases are dying for social media buy buttons to reach the mainstream.
Anything related to selling books online will inevitably be seen through the prism of Amazon. "I'm not a fan of the idea that Amazon has a stranglehold on any one industry," says Palmer, a singer and performer whose new book, The Art of Asking, is currently out of stock on the site. "Giving people an alternative to Amazon is rewarding." Hachette's senior vice president for marketing strategy, Heather Fain, says the publisher is interested in developing new ways to connect with customers but declined to address Amazon directly.
Major publishers have been looking for ways around Amazon Chief Executive Officer Jeff Bezos for years. Hachette was part of an attempt in 2011 to create an alternative to Amazon for books, a website called Bookish. But the site wasn't launched until 2013 and failed to gain much traction before being sold off in January.
Mike Shatzkin, CEO of publishing consultant Idea Logical, is skeptical that bypassing online stores to sell directly to consumers is a realistic goal. Amazon has come to dominate the book market because people like it. "There's no customer saying, 'Can you replace these guys? They're driving me crazy, and they stink,' " says Shatzkin. "There's no customer base to woo away." But this might not hold up when talking about the fans of authors like those whom Hachette has picked for its Twitter test. Palmer and Hadfield each have more than a million followers on the micro-blogging service, while the Onion has 6.6 million.
Hachette isn't dealing directly with Twitter. Instead, the publisher is working with a startup called Gumroad that's helping Twitter develop the buy-button pilot. Gumroad also gives artists, musicians, and others tools to sell products directly to consumers from their personal websites. Ryan Delk of Gumroad, who negotiated the deal, says content companies stand to make more money through social media because the cost structure is favorable. Gumroad takes a 5 percent commission plus 25¢ per sale, and Hachette also has to pay a separate fulfillment company to ship books. (Hachette's Fain declined to say whether the publisher's margins would be better selling through social media.)
Gumroad has already caught on with some big-name musicians. Eminem, Wiz Khalifa, and Girl Talk have all used the site to sell directly to fans, and the company has worked with major record labels as well. There's a certain irony to the idea that publishers and music labels are adopting a tool established in part as a way around the traditional gatekeepers of the media industry. Palmer says large media companies are often at a loss as to how to capitalize on the expansive social media prowess of the artists they want to promote. "You can be an artist with broad social reach," she says, "but if your corporation or parent company doesn't know how to leverage it, it's useless."
Corrects spelling of Ryan Delk's name in the sixth paragraph.