Ebola Outbreak in Sierra Leone Is Now Worse Than Liberia
Anna Edney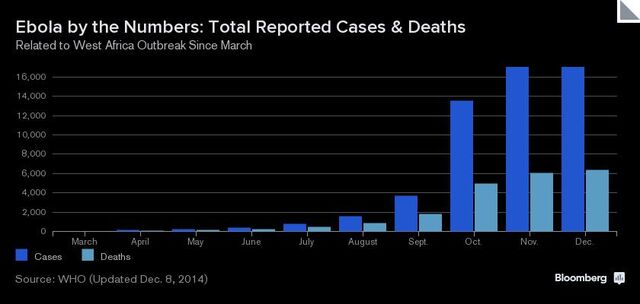 Ebola cases in Sierra Leone now total 7,798 as of Dec. 6, passing its West African neighbor Liberia where the outbreak is stabilizing.
Sierra Leone added 163 confirmed, probable or suspected Ebola cases from Dec. 3 to Dec. 6, the World Health Organization said in a report yesterday. The capital, Freetown, is among the most-affected areas, and the outbreak has been growing worse in the country even as it slows elsewhere. Liberia had 7,719 cases and 3,177 deaths as of Dec. 3, the most recent available data, the WHO said.
New treatment centers are being opened by the government and organizations like Doctors Without Borders to cope with the surge in infections in Sierra Leone. Burial rites in which mourners touch contagious corpses are continuing to contribute to the spread of Ebola, Brima Kargbo, the country's chief medical officer, said in an interview this month.
The spread of the disease in Sierra Leone was part of the reason the United Nations fell short of a Dec. 1 goal of treating 70 percent of Ebola cases in West Africa. The threshold was met in Liberia and the third hot spot, Guinea, while Sierra Leone missed the target, Bruce Aylward, the WHO's assistant director-general in charge of Ebola response, said this month. The yearlong Ebola outbreak has infected 17,800 people and killed 6,331, making it the worst flare-up of the virus on record.
Before it's here, it's on the Bloomberg Terminal.
LEARN MORE