BOE's Weale Says Weak Productivity May Mean Higher Rates Needed
Scott Hamilton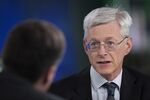 Bank of England policy maker Martin Weale said weak productivity growth may mean higher interest rates are needed in the short term to prevent demand putting a squeeze on the economy and boosting inflationary pressures.
"Persistently slower productivity growth would have two implications for interest rates," Weale said in London yesterday. "In the short term, interest rates would need to be higher in order to prevent demand running ahead of supply. But over the medium term, interest rates may remain lower than they were before the crisis, reflecting weaker underlying growth."
In a speech analyzing the poor productivity performance in major economies including the U.K. since the financial crisis, Weale said it's unclear if there has been permanent damage to the pace of growth. While it's possible that "brisk demand growth will pull productivity up by its own bootstraps," the evidence for this is "at best tenuous," he said.
The puzzle of weak productivity even as the economy has strengthened has dogged officials as they try to gauge the status of the recovery. While the BOE kept its key interest rate at 0.5 percent last week, Weale is among a minority that has been voting for tighter policy in recent months.
Weale has said increases now would enable officials to pursue their guidance that the path of tightening will be "gradual and limited." Opposing that view, the majority has cited a muted inflation outlook and a weak euro-region economy.
'Some Improvement'
While the U.K. is not the only major advanced economy to see weakness in productivity growth since the financial crisis, Britain saw one of the sharpest declines, according to Weale. Still, he said recent data showing a 0.6 percent increase in the third quarter "suggest some improvement."
Persistent weak productivity growth is one of the factors behind concerns about so-called secular stagnation, the proposition that the slow growth plaguing developed economies will endure, Weale said.
"The adjustment in share prices and long-term interest rates during the course of this year could be seen as recognition by investors of weak productivity growth and an assumption that this will prove more or less permanent," he said.
Weale also said it's wrong to think the U.K. will inevitably make up all of the ground lost in the recession and it's too soon whether to say the recent improvement is the beginning of a sustained change.
"The crisis itself had a very large impact," he said. "It is of course possible that this will continue to have a permanent effect on the level of productivity."
Before it's here, it's on the Bloomberg Terminal.
LEARN MORE