Australian Banks Need 'Unquestionably Strong' Capital
Narayanan Somasundaram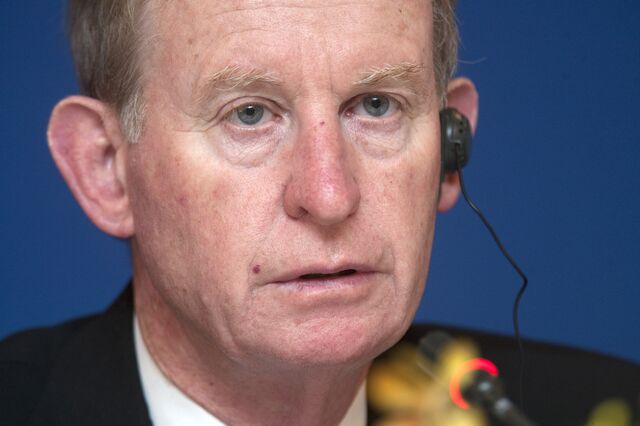 Commonwealth Bank of Australia and its three main competitors may need as much as A$30 billion ($25 billion) in fresh capital after a government inquiry said lenders should have "unquestionably strong" reserves.
Australian banks' capital buffers should be in the top quartile of global lenders and they should set aside more funds against potential mortgage losses, the Financial System Inquiry report released by Treasurer Joe Hockey yesterday showed.
Analysts said banks would need extra capital as the inquiry recommended lenders should be strong enough to withstand shocks, particularly given their reliance on overseas investors for funding. Australia's major lenders hold about 10 percent to 11.6 percent of their assets as Tier 1 capital compared with at least 12.2 percent at the world's safest banks, placing them in the middle of the second quartile.
The financial system "should be managed such that taxpayers are highly unlikely to lose money," David Murray, the head of the inquiry and former chief executive officer of Commonwealth Bank, said in a speech today. "We have to take practical steps to reduce moral hazard," he said, referring to the term for taking risks with the assumption that the government will backstop losses.
Shares in the nation's biggest listed banks were higher at 3:03 p.m. in Sydney. National Australia Bank Ltd. led gains with a 2.2 percent increase. The benchmark S&P/ASX 200 index advanced 1 percent.
'Strong Position'
"The banks are in a strong position to increase their capital," David Ellis, a Sydney-based analyst at Morningstar Inc., said by phone. "The additional capital requirement isn't a big ask." He estimates the four biggest lenders will add A$10.5 billion in common equity Tier 1 capital through retained earnings and dividend reinvestment plans in fiscal 2015 and A$12 billion the following year.
John Buonaccorsi, a Sydney-based analyst at CIMB Group Holdings Bhd., said the nation's biggest four banks may need to raise a total A$25 billion to A$30 billion in extra capital.
"Australia has to fall in line" with global changes, he said in a phone interview after the report was released. "I don't expect a straight capital raising yet."
The largest banks are initially more likely to resort to dividend reinvestment plans, where investors swap all or part of their dividend for new shares, and limiting increases in payout ratios, he added.
Mortgage Risk
Omkar Joshi, who helps oversee A$1 billion as an investment analyst at Watermark Funds Management, estimated banks would require A$15 billion to A$20 billion extra reserves.
Their predictions were based on the inquiry's recommendation of an average mortgage risk weight of 25 percent to 30 percent and systemically important bank buffer of 2 percent.
Moody's Investors Service said the recommendations were positive for banks' credit profiles and there weren't any near-term rating implications. At the same time, the rating company may ultimately need to review the assumptions it makes on the level of government support for lenders, Ilya Serov, a Sydney-based senior credit officer at Moody's, said by phone.
Murray's report is the first government-commissioned inquiry into the financial system since 1997. It said policies must be tuned to reduce the cost of failure by ensuring lenders have sufficient loss-absorbing capacity.
Bipartisan Support
Australia's government will consult widely with consumers and industry on the report, which contained 44 recommendations aimed at bolstering the nation's financial sector, Hockey said yesterday. It will seek bipartisan political support when taking decisions on the review, which will probably be after the first quarter of 2015, he said.
"I have long stated that our banks must be well capitalized and they are," Hockey told reporters in Sydney. "What the Murray inquiry is recommending is a further look at increasing those levels of capital and that's something that needs to be dealt with appropriately by the regulators."
The inquiry received more than 6,800 submissions and met with over 50 financial institutions, market participants and regulators from the U.S., Europe, U.K., Asia and New Zealand.
The nation's four largest lenders -- Commonwealth Bank, Australia & New Zealand Banking Group Ltd., National Australia Bank Ltd. and Westpac -- added A$34.6 billion in common equity Tier 1 capital from October 2010 to September this year as they boasted five straight years of record profits, filings show. The banks raised A$17.7 billion through share sales in 2008 and 2009 to bolster their balance sheets in the wake of the global financial crisis, data compiled by Bloomberg show.
Regional Lenders
"Murray's recommendations around capital, while not entirely surprising, are a negative for the major banks and incrementally positive for the regional lenders," Watermark's Joshi said. "It is interesting to note that Murray has left the final decision with the regulator."
Commonwealth Bank and National Australia said in e-mailed statements they would now consider the recommendations. ANZ's Deputy CEO Graham Hodges said increasing mortgage weights for major banks was at odds with the Basel Committee on Banking Supervision's risk-based approach.
"We believe we are strongly capitalized," Westpac's Deputy CEO Phil Coffey said in an e-mailed statement. "As the FSI panel noted, comparing capital levels with global peers is a complex issue and we will be consulting with the Australian Prudential Regulation Authority on defining fact-based international capital comparators."
Regional Lenders
Four regional lenders -- Suncorp Group Ltd., Bendigo & Adelaide Bank Ltd., Bank of Queensland Ltd. and ME Bank -- said in a statement the recommendations would create a more level playing field with the larger banks by closing a gap in risk-weighting of mortgages.
The panel recommended a mortgage risk weighting of 25 percent to 30 percent for the four biggest lenders, which currently have an average of 18 percent. Regional lenders have an average weighting of 39 percent, the report said.
Previous such inquiries, in 1981 and 1997, resulted in the floating of the Australian dollar and creation of APRA. Regulators globally have reviewed the strength of banking systems in the aftermath of the global financial crisis.
Murray's five-member panel began conducting the financial system inquiry in December 2013 and delivered an interim report in July. It asked for submissions on whether bigger banks should set aside more capital against mortgages and sought views on increasing requirements for those lenders considered systemically important.
Higher equity capital levels would mean higher interest rates for customers, ANZ CEO Michael Smith said Oct. 31. A one percentage point rise in capital requirements would increase the average interest rate on loans by less than 10 basis points, the inquiry found, with Murray saying lenders' estimates for such costs were "exaggerated."
Before it's here, it's on the Bloomberg Terminal.
LEARN MORE