Tale of Two Mayors: De Blasio Says Giuliani Doesn't Understand Racial Reality
New York City's Democratic mayor says there's a disconnect between the police and the communities they serve.
By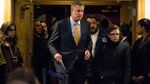 New York City mayor Bill de Blasio says that Rudy Giuliani, one of his Republican predecessors, "fundamentally misunderstands the reality" in their city and in others where there have been deadly interactions between white police officers and unarmed African-Americans.
"There is a rift here that has to be overcome," de Blasio said today on ABC's "This Week" program. "You cannot look at the incident in Missouri, another incident in Cleveland, Ohio and another incident in New York City all happening in the space of weeks and act like there's not a problem. There's something fundamental we have to get at here."
Grand juries declined to bring indictments against white police officers who killed unarmed black men in Ferguson, Missouri, and New York's Staten Island. The Department of Justice is investigating both incidents. In Cleveland, the family of 12-year-old Tamir Rice filed a wrongful death lawsuit after he was killed last month while holding a toy Airsoft gun.
De Blasio was responding to Giuliani's comments on Fox News Sunday last week that black-on-black crime needs to be an abiding focus at least as much as better training and diversity in police departments.
"I think just as much, if not more, responsibility is on the black community to reduce the reason why the police officers are assigned in such large numbers to the black community," Giuliani said.
Giuliani made similar arguments a week earlier on NBC's "Meet the Press."
"The white police officers wouldn't be there if you weren't killing each other 70 to 75 percent of the time," Giuliani said during an aggressive conversation with Michael Eric Dyson, a Georgetown University professor who is black.
De Blasio said that he has "immense respect" for the police, while noting that he and his wife, who is black, have spoken to their biracial son, Dante, about how to conduct himself if stopped by the police.
"It's different for a white child. That's just the reality in this country," de Blasio said. "And with Dante, very early on with my son, we said, look, if a police officer stops you, do everything he tells you to do, don't move suddenly, don't reach for your cell phone, because we knew, sadly, there's a greater chance it might be misinterpreted if it was a young man of color."