Scotland's Salmond Says He'll Seek Commons Seat in 2015
Andrew Atkinson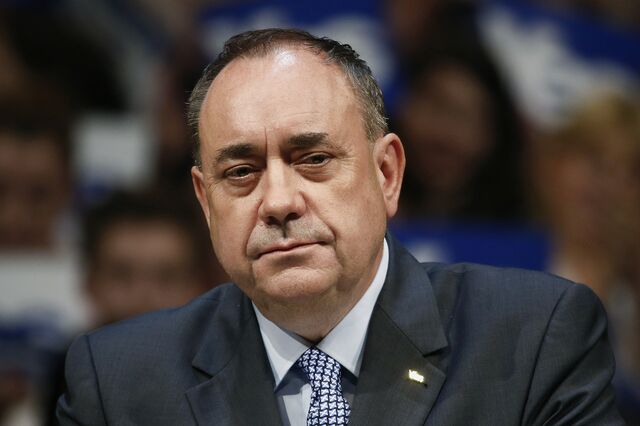 Former Scottish First Minister Alex Salmond, who resigned after losing a referendum over independence, will try to win a seat in the U.K. Parliament in the May general election.
The 59-year-old ex-leader of the Scottish National Party said he wants to contest Gordon in northeast Scotland, a House of Commons constituency held by Liberal Democrat lawmaker Malcolm Bruce, who is retiring. Salmond represents the equivalent seat in the devolved Scottish Parliament in Edinburgh.
Scotland is set to take control of income tax raised locally as part of promises made by Prime Minister David Cameron and other party leaders to transfer more power to the region in the final days of the referendum campaign after polls showed the nationalists within reach of winning. The SNP has said the concession does not go far enough.
"The Westminster parties will concede to Scotland as little as they can get away with," Salmond told his local party in Ellon, Aberdeenshire. "It is up to us to ensure that they get away with nothing."
SNP membership more than tripled since the Sept. 18 referendum, in which 55 percent of voters backed continuing the union with England, Wales and Northern Ireland. U.K.-wide opinion polls show the SNP has enough support to play a key role in determining who governs Britain after the election.
'Real Power'
Cameron's Conservatives and the Labour opposition were tied at about 32 percent, suggesting neither will gain an outright majority. The SNP has said entering a coalition is unlikely, but has signaled it could offer support to a minority administration on specific issues.
At the last election, Bruce won Gordon with 36 percent of the vote. The SNP candidate came second with 22 percent, and Labour third with 20 percent. Bookmaker William Hill Plc made Salmond the clear favorite to win the seat, offering one pound ($1.56) for every eight bet if he succeeds.
Salmond said the election offered the prospect of "real power" for SNP, which has about 8 percent support in U.K. polls and is the most popular party in Scotland. Labour, with 41 of the 59 Scottish seats in the House of Commons, has the most to lose from the surge in SNP support.
The Smith Commission that recommended handing tax powers to Scotland hasn't measured up to what was promised, Salmond said, and hasn't proposed "home rule, devo max and still less near federalism."
"It is real control of one more tax and a small proportion of welfare spending," he said. "It would leave Scotland still in the clutches of Westminster austerity."
Salmond was a lawmaker in the Commons between 1987 and
2010.
Before it's here, it's on the Bloomberg Terminal.
LEARN MORE