Kerry Says U.S. to Push Peace Deal After March Israeli Elections
Mark Drajem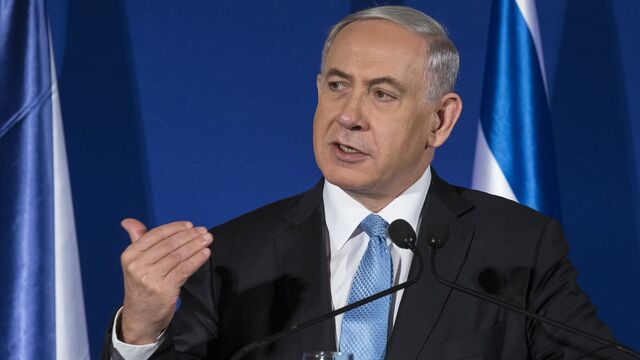 Secretary of State John Kerry said that the U.S. will seek to reengage in negotiations for a peace settlement in the Middle East following the election of a new government in Israel next year.
Speaking at a forum in Washington today, Kerry said there's "not an inch of daylight" between the U.S. and Israel over opposition to Iran's nuclear program, while offering a different take than that of Israeli Prime Minister Benjamin Netanyahu on the prospects for talks with both Iran and the Palestinians.
"Achieving a negotiated two-state solution will remain high on the agenda of the U.S.," Kerry said. "Our commitment to Israel's future remains ironclad."
With Israeli elections slated for March, Netanyahu delivered a taped message to the annual forum of the Brookings Institution's Saban Forum before Kerry spoke. Netanyahu praised the failure to reach a deal on Iran's nuclear program before a deadline, saying any agreed deal would be a misstep.
He said any agreement for peace with the Palestinians can only come "with leadership that demands from the Palestinians to accept the three pillars of peace: one, genuine mutual recognition; two, an end to all claims, including the right of return; and three, a long-term Israeli security presence."
Previous "talks ended because the Palestinians wanted them to end," Netanyahu said in his video message from Jerusalem. "Israel seeks peace. I seek peace, but for peace we need a legitimate Palestinian partner willing to stand up to Palestinian extremists."
Coalition Disbanded
Netanyahu decided to disband his bickering, 20-month-old governing coalition last week as Israel struggles with a slowing economy and escalating Palestinian violence. Members of the coalition had been at odds from the start, with conflicting views on issues ranging from peacemaking to housing.
In his talk, Kerry said that Israel's security concerns can be addressed in a Palestinian peace deal, in part with the help of moderate Arab nations. He also said that the current arrangement doesn't serve Israel's interests.
"The status quo between the Israelis and Palestinians is not sustainable," he said. "There should be no question that a two-state solution is the only path to peace."
On Iran, Netanyahu lauded the inability of the U.S. and other nations to secure an agreement with Iran over its nuclear program before a deadline.
"We played a critical role to prevent a bad deal," he said.
But negotiators agreed to extend the talks, and Kerry said that Iran has lived up to the terms of last year's interim agreement. Talks with that nation will continue for the next three or four months, he said.
"In recent weeks we have seen flexibility emerge," he said. "But we have no intention of negotiating forever."
Before it's here, it's on the Bloomberg Terminal.
LEARN MORE