IRC Sees Iron Ore Stabilizing at $70 as Mines Close
Alex Davis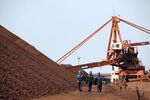 Iron ore's collapse to the lowest level in five years is coming to an end as the rout prompts some Chinese mines to cease output, according to IRC Ltd.
Prices are approaching the cost of production for many global suppliers, according to Jay Hambro, chairman of the Hong-Kong listed miner. The raw material is likely to stabilize at about $70 a metric ton next year as more mines close, he said. China is the world's biggest consumer.
The steel-making raw material has plunged 47 percent this year, with benchmark prices at the Chinese port of Qingdao port falling below $70 for the first time since June 2009 on Nov. 25. As much as 130 million tons of seaborne capacity will have to close over the next two years because of the supply glut, Goldman Sachs Group Inc. said last month. That's equivalent to 10 percent of current supply.
"We are at a point of enormous pain," Hambro said in an interview in Hong Kong Dec. 5. "You could see some short-term volatility beneath $70 but my gut feeling is that $70 is where it will stabilize for a while."
Ore with 62 percent iron content rose 0.7 percent to $71.77 a ton on Dec. 5, after dropping to as low as $69.25 on Dec. 3, according to Metal Bulletin data. It has averaged $99.08 this year compared with $135.81 in 2013.
While the world's biggest mining companies including BHP Billiton Ltd., Rio Tinto Group and Vale SA, increase output this year, Chinese demand is slowing as the economy is set to grow at the weakest pace since 1990. Rio, the second-largest producer which delivers to China at $40 a ton, is targeting output of 350 million tons by 2017 to prevent rivals from stealing market share, the company said Dec. 2.
High-Cost Producers
A price range between $70 and $80 over the next six to 12 months will lead to the exit of many high-cost producers in Australia, Brazil and China, according to Bank of America Merrill Lynch. Output in China fell to 350 million tons from 400 million tons in 2014 and will bottom out at 265 million tons in 2016, the bank said Dec 3.
IRC's K&S iron ore project in Russia's Far East is due to start production in the third quarter, with output of 1.7 million tons forecast in 2015. The total delivered cost of the 65 percent iron content ore will be $50 a ton, Hambro said.
While mine closures are likely to continue in China, according to Hambro, survival depends more on geographical location than whether the mines are low-cost producers, he said.
"What we do in the bulk commodities world is a very small amount of mining and a huge amount of logistics," said Hambro. "When you say it's a high-cost mine in China, if it's bang next door to a steel mill, it will survive and the opposite could also be true."
Before it's here, it's on the Bloomberg Terminal.
LEARN MORE