Ebola Czar, We Hardly Knew Ye
Ron Klain, who plans on leaving the White House early next year, has been a target of frequent criticism.
By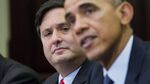 After less than two months on the job, the Obama administration's Ebola response coordinator, Ron Klain, has already planned his return to the private sector, according to Fortune magazine. 
Klain has committed to former AOL chief Steve Case that by March 1, he'll be back on the job as president of Case Holdings and general counsel for Case's venture firm Revolution LLC, Case tells Fortune. An administration official confirmed the plan.
This puts a damper on speculation that Klain might take over for John Podesta, the counselor to President Barack Obama who is leaving the White House early next year.
It also puts an end to one of the administration's least effective public-relations moves. While it's hard to say how much of the eventually successful response to Ebola in the U.S. is due to Klain's contributions, it's easy to track how much of the criticism he drew. 
From the beginning, Obama was pressured to hire a czar by politicians who wanted to assure their constituents that there was firm leadership in place. The implication was that the administration lacked a decent manager to oversee the response.
"From spending time in Arizona, my constituents are not comforted," noted czar hater Senator John McCain said on Oct. 13 during an interview on CNN's "State of the Union," just after the first Dallas health care worker was diagnosed with Ebola. "There has to be more reassurance given to them. I would say that we don't know exactly who's in charge. There has to be some kind of czar."
By caving to those kinds of demands, some argued that the president seemed to be admitting that the administration didn't have things under control. "Ron Klain is a great guy, smart, couldn't be a better guy," Shirley Anne Warshaw, a presidential expert at Gettysburg College, told the New York Post. "But to have any Ebola czar is huge mistake. This says we lack confidence in our own HHS, in our public health system."
During the weeks since Klain took the job, he's been criticized for his lack of medical experience, by both conservatives and "Saturday Night Live"; for not attending congressional hearings; and for not being a major presence in the media.
The problem with Klain's behind-the-scenes approach was that the people who wanted an Ebola czar expected someone who would be very obvious about the work that he or she was doing. 
Instead, we got someone who "has been shuttling between different agencies and the White House to make sure everyone's on the same page, working to speed up bureaucratic processes, and making sure the individual pieces fit into the administration's broader Ebola strategy," as MSNBC reported, citing people familiar with his work. 
In his own words, Klain told an audience at Georgetown University on Friday that he was hired for his experience managing multiple agencies. "I never feel as un-czar-y as when I'm trying to deal with this complicated patchwork of federal, state and local systems," he said, according to the Los Angeles Times. 
Now that there are no cases of Ebola in the U.S., concern has quieted about travel bans, epidemics and the competency of the Centers for Disease Control and Prevention. Case told Fortune that Klain is "perfectly fine" not getting credit for the work he's done, but it's not clear how much credit he actually deserves.
Then again, not becoming a congressional target might be the only thanks he needs.