China Stock Brokerage Valuations Climb to Four-Year High
Alfred Liu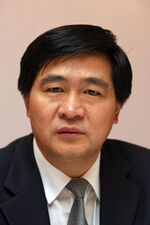 Chinese brokerages' valuations have surged to their highest level in more than four years as Shanghai's surging stock market improves the prospects for trading revenue.
The Bloomberg Intelligence China A-Share Institutional Brokerage index, which tracks Citic Securities Co. and 21 of its peers, climbed 55 percent in the two weeks to Dec. 5, pushing its valuation to 4.3 times its book value. That's the highest level since May 2010.
Brokerages rallied, extending gains today amid record trading that drove the Shanghai Composite Index up about 22 percent in the past month, the most among 93 global indexes tracked by Bloomberg. Chinese investors are opening stock trading accounts at the fastest pace in more than three years amid central bank efforts to bolster economic growth.
"The surging trading volumes will almost all translate into profit" for brokerages, said Zheng Chunming, a Shanghai-based analyst at Capital Securities Corp. Zheng warned that the $4.8 trillion stock market's gain could run out of steam.
China's biggest brokerages offer the best value for investors, according to Zheng and China International Capital Corp. analyst Mao Junhua. Small and midsized firms are trading at 3.9 times book value, 80 percent higher than the valuations for Citic, the nation's largest brokerage by market value, and Haitong Securities Co., the second biggest, Mao wrote in a Dec. 5 report.
Book value is a measure of what would be left over for shareholders if all assets could be sold at current valuations and all liabilities paid off.
Shares Rise
Shares of Citic surged 10 percent to 25.50 yuan at 10:51 a.m. local time, heading for the highest close since May 2008. Haitong jumped 10 percent to 19.72 yuan, on course for the highest close since October 2008.
The Shanghai Composite climbed 1.4 percent. It advanced 9.5 percent last week, the most since February 2009, amid speculation the People's Bank of China will cut lenders' reserve-requirement ratios after reducing interest rates for the first time in two years last month to support growth.
As stocks rallied through November and trading surged, analysts raised earnings-growth estimates for brokerages to a three-month high. They're projecting a 34 percent increase in the next 12 months, weekly data compiled by Bloomberg show.
Citic Profit
The value of shares that traded on the Shanghai and Shenzhen stock exchanges surged above 1 trillion yuan ($163 billion) for the first time on Dec. 5. Turnover in the past month has averaged 528 billion yuan, double the average for the year, according to data compiled by Bloomberg.
Citic's President Cheng Boming told reporters in New York last month that profit could rise to 50 billion yuan by 2020, indicating an increase of almost 10 times from last year's net income. First-half net income jumped 93 percent to 4 billion yuan, company filings show.
The stock rally is drawing out skeptics including Andy Xie, the former World Bank economist, who said last week the gains are amplified by borrowed money. China's securities regulator urged investors to consider risks as they invest in stocks, according to a Dec. 5 statement.
Chinese investors opened 370,000 new stock-trading accounts in the week to Nov. 28, the most since April 2011, China Securities Depository & Clearing Corp. data show.
"You needed to queue to open a stock trading account" last week, said Jiao Wenchao, an analyst at Ping An Securities Co. Through this week at least, "trading volumes should continue to be high. Sentiment remains strong."
Before it's here, it's on the Bloomberg Terminal.
LEARN MORE