NASA's Orion Conquers Orbital Test as U.S. Budget Debate Looms
Julie Johnsson, Christopher Boyd and Jennifer Kaplan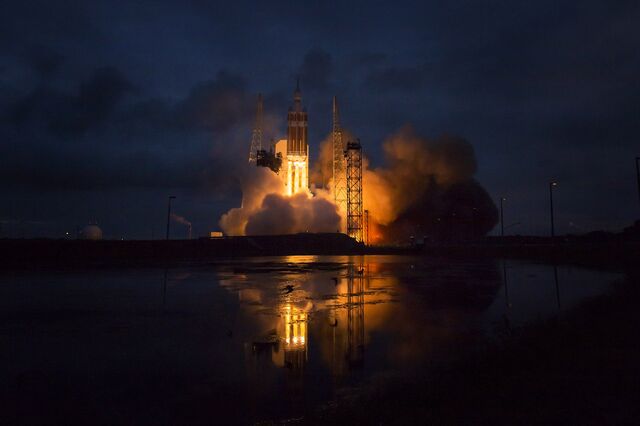 The Orion spacecraft's almost flawless debut flight set the stage for the National Aeronautics and Space Administration's next challenge: finding the funding to carry humans to Mars in the 2030s.
The Apollo-like capsule orbited Earth twice yesterday to test critical functions, a 4 1/2-hour trip for the first U.S. vehicle built to transport humans to space since the shuttle in 1981. Now NASA must find political allies to keep championing a program that has already cost $7.4 billion.
The voyage, less than two months after a pair of disasters stunned the commercial space industry, helps bolster NASA's case for its biggest-ever expedition. Spending over 20 years for a Mars mission would dwarf outlays for the $100 billion International Space Station, the most expensive structure ever built.
"We have a new Congress in January -- let's see what happens," said Henry Hertzfeld, research professor of space policy and international affairs at George Washington University. At the very least, "anytime you have a success like that on something new, it's great."
The NASA exploration budget that finances Orion and a new heavy-lift rocket is one of the few non-defense budget accounts for which House Republicans have proposed an increase from President Barack Obama's request for fiscal 2015, said Brian Friel, a government fiscal analyst with Bloomberg Intelligence.
Spending Projections
Spending would rise 5 percent to $4.17 billion under the House bill, while the Senate proposes a 10 percent increase to $4.37 billion, according to data compiled by Bloomberg. The largest beneficiaries from more spending would be Lockheed Martin Corp., which manufactured the Orion, and Boeing Co., the contractor's co-owner of the venture building the new rocket.
Orion is the first spaceship developed to carry humans beyond the moon, and later versions will be fine-tuned to travel to asteroids next decade and to Mars in the 2030s. NASA is targeting an Orion trip with astronauts by 2021.
While Orion was among the top trending topics worldwide on Twitter.com, NASA's new ambitions are unfolding amid a federal budget squeeze and the short attention spans of the social-media era, not the race-for-the-moon competition of the Cold War.
At Kennedy Space Center in Cape Canaveral, Florida, where a Delta IV Heavy rocket carried Orion aloft, some of the weather-worn buildings displayed faded signs from news organizations that once camped out to chronicle the Apollo program. They were a reminder that interest in NASA diminished after the U.S. won the race to the moon.
Political Reaction
The White House called the trial "an important step," and Republican Senator Jeff Sessions of Alabama, whose state is home to NASA's Marshall Space Flight Center, said in a statement: "This is the beginning of an historic advancement in space."
Also weighing in with a tweet of "congratulations to NASA" was billionaire Elon Musk -- a supporter of flights to Mars and a contractor for the space agency.
The launch came a day after the initial target for liftoff was postponed. The craft reached its apogee, or highest point, more than three hours into the flight -- an altitude of 3,600 miles (5,800 kilometers). That's the greatest distance from Earth traveled by a vehicle designed for humans since lunar voyages ended in 1972. Orion parachuted into the Pacific Ocean off Mexico's Baja peninsula.
"There were a few moments when I held my breath, but today's flight couldn't have gone better," said Mike Hawes, a Lockheed vice president and Orion program manager.
Industry Comeback
The journey bodes well for the entire space industry after two recent explosions, George Washington University's Hertzfeld said. "Good for the agency, good for the country and for all the rest."
An unmanned Orbital Sciences Corp. rocket burst into a fireball in October as it took off from Virginia on a cargo-carrying mission for NASA to the space station. Three days later, a Virgin Galactic Ltd. suborbital craft crashed during a test flight in California, killing the co-pilot and injuring the pilot. Richard Branson's Virgin Galactic is developing its SpaceShipTwo for tourist flights.
While similar in appearance to the Apollo capsules that first flew in the 1960s, Orion was built with 21st-century manufacturing techniques and materials. The latest capsule has been in development since 2006, when it was commissioned for lunar travel under the Constellation program.
Conserving Funds
NASA doesn't yet have a modern equivalent to the Saturn rockets that sent astronauts to the moon. The Delta IV Heavy, built by the Lockheed-Boeing venture United Launch Alliance, is serving as a temporary propulsion system while the first of three new rockets planned by NASA is developed.
Orion will be paired with the new rocket system in an unmanned test flight scheduled for fiscal 2018 that will travel 435,000 miles past the moon in an elliptical orbit. Under a NASA plan to conserve funds, the new craft won't fly for another three years after that.
Lockheed's Hawes grew emotional during a press conference following Orion's flight. He recalled working early in his career with veterans of NASA's moon shots along with Bill Gerstenmaier, who is now mapping plans to explore the solar system as NASA's associate administrator for human exploration.
"We've now finally done something for the first time for our generation," Hawes said. "It was a good day."
Before it's here, it's on the Bloomberg Terminal.
LEARN MORE