Last-Place Woods Outplayed by Reed at World Challenge
Michael Buteau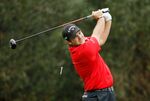 Patrick Reed beat playing partner Tiger Woods by seven shots to move into third place at the World Challenge in Orlando, Florida.
Reed's outfit of a red shirt and black pants was reminiscent of Woods's traditional Sunday attire, while his 9-under-par 63 score was a flashback to the tournament host's play of the mid-2000s.
"I never played with Tiger before besides in practice rounds," Reed told reporters after his round yesterday. "It was good to finally be able to play with him, especially in competition. It was a lot of fun. We had a good time. I felt like we enjoyed ourselves out there, and luckily I played well."
Reed, a 24-year-old Texan, had eight birdies, an eagle and a bogey at Isleworth Golf & Country Club to reach 8 under for the tournament. He's 11 shots ahead of Woods, who is in last place at 3 over in the 18-player field.
A 90-minute rain delay yesterday meant play was halted by darkness with leader Jordan Spieth of the U.S. on the 18th hole. Spieth, the winner of last week's Australian Open, is 11 under par, two ahead of Henrik Stenson of Sweden. England's Justin Rose is alongside Reed at 8 under.
Woods, a five-time winner of the event, finished his day with a double-bogey six on the 18th hole for a 2-under 70. He started his round with a birdie from about 8 feet, an improvement from a day earlier when he hit his opening tee shot out of bounds. He also chunked four chips -- stubbing the club into the ground well in front of the ball -- en route to a 5-over 77 score in the first round.
New Coach
Woods fired coach Sean Foley in August and is now working on his swing with Texas-based Chris Como.
"It's not quite ready yet," Woods told reporters. "Just going to take more time, more practice."
Woods, 38, is making his return to competitive golf after an absence of almost four months due to a back injury. He hadn't played in a tournament since missing the 36-hole cut at the PGA Championship in August.
Before it's here, it's on the Bloomberg Terminal.
LEARN MORE