Victim Advocates Say Rapists Should Stay on College Campuses
Should a campus let rapists stay? Some victim advocates say yes, if it encourages students to report attacks
By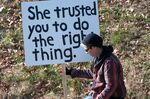 The University of Virginia has been pelted with calls to fire the administrator in charge of handling campus rape cases. A recently published video shows Nicole Eramo, an associate dean and head of the school's sexual misconduct board, saying students who'd admitted to committing sexual assault weren't expelled. Attackers, she says, deserve "some consideration" for coming clean. She adds that often, victims are "feeling quite satisfied with the fact that that person has admitted they've done something wrong."
On the surface, the video seems like a damning affirmation of the rot that students, faculty, and alumni say allowed an alleged gang rape to go unpunished at UVA. If schools are tasked not only with helping victims but protecting all students, how can they allow perpetrators to stay on campus, free to attack more students?
Victim advocates say the reality is more complicated. UVA and some other schools follow the "victim-centered approach," where investigations only go as far as a complainant is comfortable with. While Eramo has been accused of condoning rape, some experts sympathize with her approach, saying universities must be careful not to deter victims of rape from reporting an attack, including by mandating expulsions. 
"If our culture didn't vilify victims, mandated expulsion would be great. But we live in a time and place where victims are vilified on campus, and I don't think a single sanction would encourage more people to report," says Colby Bruno, senior legal counsel at the Victim Rights Law Center.
The victim-centered approach puts more emphasis on the recovery of victims, who may not want to report their attacks or see their attackers expelled, than on punishment. 
"Some people may just want to tell a trusted friend, some may want to switch dorms, and some may want to go through the whole process," says Donna Greco, training and technical assistance director of the National Sexual Violence Resource Center. Threatening to take away a victim's autonomy by mandating expulsions ignores the fact that "for many survivors, what they're looking for is healing and safety," says Kate McCord, communications director at the Virginia Sexual and Domestic Violence Action Alliance.
Acknowledging some rapists will be allowed to stay in school has become a particularly fraught approach as schools face increased scrutiny. Under new White House guidelines, universities must weigh victims' desires against the "obligation to provide a safe, non-discriminatory environment for all students" (PDF). Some attorneys say the victim-centered approach can go too far, favoring victims' preferences over other students' safety.
"Asking the victim what they want the final outcome of the case to be is going a bit too far, and it's to the detriment of all other students who are now living in the dorms, taking classes with and living in close quarters with the perpetrator," says Christopher Mallios, an attorney adviser with AEquitas, an organization that aims to improve how prosecutors handle sexual violence cases. "The campus safety officers and disciplinary officers do not represent the victim. They have a duty to the entire university."
Mallios dismisses the idea that punishing perpetrators harshly will keep victims from reporting assault.
"We do not have a problem in this country of too many campuses taking these cases seriously. The problem we have is that campuses are trying to sweep these offenses under the rug, which harms victims and allows perpetrators to commit sexual assaults with impunity," Mallios says.
The polarizing characterizations that have emerged of Eramo—with some hailing her as a hero and others demanding her immediate dismissal—illuminate the treacherous space universities are navigating as they try to improve their response to sexual assaults. At UVA and elsewhere, schools toe a tenuous line between giving control back to sexual assault victims and making sure serial perpetrators can't keep preying on students.