Sportswear: Donna Karan on Her Fashion Inspiration in the 1980s
Donna Karan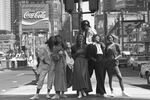 1984 Donna Karan creates Seven Easy Pieces, a mix-and-match wardrobe that allowed women to look professional and feminine at work.
When I was working at Anne Klein in the '70s, women were wearing jackets and bow ties and shirts—more or less dressing like men. Where was the sensuality of women? Nobody was doing the kind of clothes women needed from the minute they got up in the morning to the minute they went to bed at night. I don't think anyone really understood how crazy our lives were. Those suits were holding us back. We wanted to move. We wanted to be comfortable. Think of, say, a black dress in a stretch fabric. You can wear that to work, and then you can go out at night—there's nothing better than a jersey dress. It holds us in and lets us breathe.
I was a yogi, and I always wore a bodysuit and a pair of leggings, and this wraparound skirt thing. It was the inspiration behind the group of garments—the bodysuit and tights, skirt or pants, a body blouse, a tailored blazer, a cashmere coat, and an evening piece—that would become my first collection, Seven Easy Pieces.
Sportswear, this idea of more relaxed separates that you can put together to create an outfit, had existed since the 1930s or '40s, but it was for casual wear. In the '80s, fashion was either the boxy man's suit or all about ladies who lunched. Forget about ladies who worked! As a working woman and a mother, I was constantly having to dress for my job and then go out at night. And the only thing I was really changing was my shoes. Or adding a piece of jewelry or a scarf, giving that little twist to the outfit. That's what I love about clothes—to have that flexibility—but I never thought my idea would catch on.
People eventually took to it. And every woman wants to wear yoga pants now. Woo! Who would have thought? —As told to Kurt Soller
Before it's here, it's on the Bloomberg Terminal.
LEARN MORE