Prince William Is Coming to the White House
By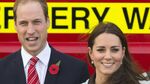 And you thought the most exciting thing on President Barack Obama's schedule on Monday is his scheduled interview with comedian Stephen Colbert. 
The same day, Prince William will pay a visit to the White House when he's in town as part of a U.S. visit with his wife, Kate, who is expecting their second child in April. The royal couple is set to arrive Sunday in New York. Kate is not expected to join William for his Dec. 8 meetings in Washington with Obama and (separately) Vice President Joe Biden and wife, Jill, according to the White House. Easy, ladies.
William's first D.C. visit is pegged to his speech the same day to the World Bank about illegal wildlife trafficking.
"The President welcomes the Prince's work in this global fight against what is both a national security threat and a devastating environmental problem," White House spokesman Josh Earnest said in a statement, adding that the meeting between Obama and the prince underscores that "special relationship" between the U.S. and the U.K.
"There's a lot of enthusiasm" about the visit, Earnest said.
While William's visit is likely to be the height of dignified, it's fair to say Obama's time with Colbert will not. In remarks promoting their meeting, Colbert joked that D.C. had been his television show's "second home" and that he would return "to show it the same affection the British did in 1812." Not to worry, Obama's "Colbert Report" appearance is being taped down the road, at the George Washington University's Lisner Auditorium.