Police Killings Show Race-Frozen U.S. Politics Powerless to Heal
Tim Jones, Mark Niquette and James Nash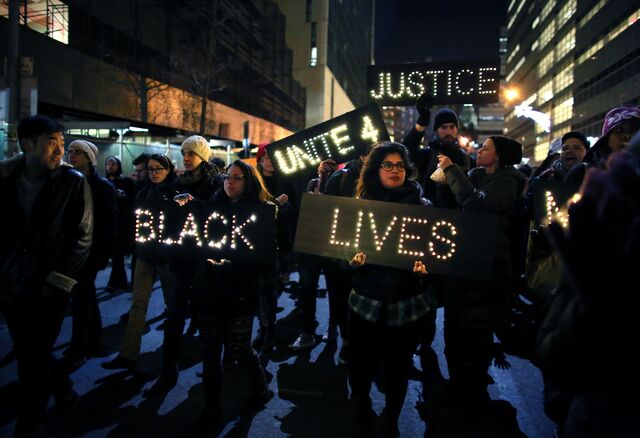 Police shootings of blacks by white officers are exposing the intractability of racial distrust in the U.S. and the inability of institutions to dispel it.
"There has to be a turning point," said Otis Moss Jr., pastor emeritus at Olivet Institutional Baptist Church in Cleveland, where a 12-year-old boy playing with a toy gun was killed Nov. 22 by a department found to use unreasonable force regularly. "All Americans are being scarred."
That point hasn't been reached. In the span of 12 days, the loose lid on simmering race relations has blown off, with debate about police tactics raging across Twitter and television, at the White House and in street protests across the country. Thousands marched to show their wrath over the deaths, which include the shooting of an unarmed 18-year-old in Ferguson, Missouri, and a fatal chokehold applied to a 43-year-old man by police on New York's Staten Island.
President Barack Obama's administration promised investigations and Attorney General Eric Holder appeared in Cleveland on Dec. 4 to deliver the damning report on the city's police force. Hours later, protesters outside the Barclays Center in Brooklyn carried 11 black cardboard coffins with the names of people they said died at the hands of police and lay in the street for a seven-minute silent "die-in."
Birther Debate
Raphael Sonenshein, head of the Pat Brown Institute of Public Affairs at California State University in Los Angeles, said more talk about uneven law enforcement might represent the most tangible outcome.
"It would be an amazing achievement just to address that question," he said. "I'm willing to settle for that discussion."
The building action on the streets and in the halls of power contrasts with years of sclerosis in the nation's politics caused by racial and ethnic animus.
The most fervent opponents of America's first black president spent years trying to disprove that he was born in the U.S. The battle over immigration prompted states such as Alabama and Arizona to pass laws meant to intimidate undocumented immigrants into leaving, but that violated the Constitution. In the South, where 154 years ago states began seceding to fight for slavery, politics remain deeply segregated, with minority blacks dominating the Democratic Party and whites forming a solid Republican bloc. The last white Democratic senator from the South, Mary Landrieu of Louisiana, is likely to lose her seat today, polls suggest.
Unsettled Time
The civil-rights movement of the 1960s presented clear targets such as Jim Crow laws and officials openly devoted to racism. Today's challenges are less obvious even as certainties become less certain.
In Orangeburg, South Carolina, a white man who'd been a police chief was indicted this week on murder charges in the 2011 shooting death of an unarmed black man. He faces 30 years to life in prison if convicted.
In Obama and Holder, the nation has a black president and attorney general. Blacks and Hispanic faces are fixtures in popular culture. Yet in income, economic mobility, housing, education, employment and life expectancy blacks lag behind whites, according to the U.S. Census Bureau and data compiled by Bloomberg.
Empty Polls
The median income of blacks last year was $34,598, which was 40 percent less than for whites. While the poverty rate for blacks has declined during the past five decades, it's still about 25 percent, roughly three times more than whites. Only 20 percent receive college degrees or beyond, compared with 30 percent of whites. Blacks also represented about half of all homicide victims and 38 percent of the prison population in 2011, according to data from the FBI and the Bureau of Justice Statistics.
In Ferguson, where rioting erupted last month after a grand jury decided not to indict police officer Darren Wilson for the Aug. 9 shooting death of Michael Brown, 18, the population is 70 percent black. Turnout in the past three city elections didn't exceed 12.3 percent, according to the St. Louis County Elections Board.
Only one of six councilmen and three of the city's 53 police officers are black.
Selling Loosies
In New York, Mayor Bill de Blasio, who's married to a black woman, campaigned on a promise to ease tension between police and minority residents. Many have been objects of a so-called stop-and-frisk program that focused disproportionately on young men and vigorous enforcement of low-level infractions on the theory that stopping small crimes prevents larger ones from occurring.
Yet three days ago, a Staten Island grand jury declined to indict a white officer for killing Eric Garner, a black man suspected of selling single untaxed cigarettes. After the panel's decision, New York erupted with massive, roving protests that spread to cities including Chicago, Boston and Washington.
"It's not that white America doesn't get it -- it's not about all black people and all white people," said Krishan Natesan, a pastor of a Methodist church Upper Marlboro, Maryland, who marched with about 100 people around the Justice Department in Washington on Dec. 4. "It's people in positions of power who don't get it."
Interpreting Events
Senator Rand Paul, a Kentucky Republican of Libertarian bent and a likely presidential candidate, sought to turn Garner's death into a criticism of taxation.
"The individual circumstances are important," Paul said on MSNBC. "It is also important to know that some politician put a tax of $5.85 on a pack of cigarettes."
Representative Peter King, a Republican from New York, blamed Garner's physical condition for his death.
"If he had not had asthma and a heart condition and was so obese, almost definitely he would not have died," King said on CNN.
Race has been a particularly fraught topic for Obama. From his 2004 Democratic convention speech about bridging the country's divisions, which catapulted him into national politics, through his time in office, he has emerged as a polarizing figure.
His first five years as president ranked among the 10 most politically divided in the U.S. since the Eisenhower administration, according to Gallup, which tracks presidential approval ratings.
In July 2013, Obama made violence personal when he said Trayvon Martin, a 17-year-old killed the previous year by a Florida neighborhood watch volunteer, "could have been me."
'Often Ugly'
In a speech Dec. 4, Obama said, "Too many Americans feel deep unfairness when it comes to the gap between our professed ideals and how laws are applied on a day-to-day basis."
That same day in Cleveland, where 12-year-old Tamir Rice was shot last month, Holder announced that a U.S. Justice Department investigation determined police engaged in a pattern of "unreasonable and unnecessary use of force" between 2010 and 2013 that had "inflamed community perceptions, particularly in the African-American community."
It's too soon to know whether the uproar will have any lasting effect, said Moss of the city's Olivet church, a 79-year-old civil rights leader.
Past efforts to improve race relations and civil rights have stalled because "many people withdraw from grappling with that which is painful and often ugly," Moss said. All individuals of good will and institutions are obligated to act on behalf of civil rights daily and not just occasionally, he said.
Before it's here, it's on the Bloomberg Terminal.
LEARN MORE