Bratton Says NYC Police Won't Make Mass Arrests of Protesters
Henry Goldman, Michelle Kaske and Brian Chappatta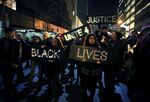 New York City will refrain from mass arrests after a grand jury's decision not to indict a white officer for killing a black man sparked two days of protests, Police Commissioner Bill Bratton said.
Bratton, 67, said police expect the demonstrations "to peter out on their own," particularly with a forecast for rain and cold tomorrow. Although about 10,000 marched through Manhattan and Brooklyn last night, and 219 were arrested for stopping traffic and blocking bridges and tunnels, police and most demonstrators behaved well, he said.
"There's nothing to be concerned about; there's nothing to be fearful about," Bratton told reporters as he left a visit with Mayor Bill de Blasio at City Hall today. "New York has a police force that's showing remarkable restraint, and it also has demonstrators that are showing -- most of them -- remarkable restraint."
The demonstrations last night marked the second round of nationwide rallies after a Missouri grand jury refused last week to indict a white officer in the shooting of an unarmed black teenager in Ferguson. The New York panel declined Dec. 3 to charge Officer Daniel Pantaleo in the chokehold homicide of Eric Garner, a 43-year-old father of six, whose fatal altercation on Staten Island was recorded on video by a bystander.
Blocking Byways
Last night, protesters in near-freezing temperatures took over automobile lanes of the Brooklyn Bridge, Manhattan's West Side Highway and Chicago's Lake Shore Drive. Hundreds gathered near New York's Staten Island Ferry terminal as police corralled them with metal barricades and stood at the ready with riot gear in hand.
The fast-moving demonstrations were the most challenging for police since 2004, when tens of thousands marched against the war in Iraq during the Republican National Convention, which the city hosted in Madison Square Garden.
Police arrested more than 1,800 in sweeps across Manhattan that year, which Bratton said was futile and costly. Lawsuits stemming from the arrests cost the city more than $19 million in settlements and lawyers' fees, he said. The department's chief of patrol and its deputy commissioner for counterterrorism were each compelled to answer depositions for seven days, Bratton said.
Sky Cops
"The problem with mass arrests is that most get negated," Bratton said. "I have no intention of sitting in depositions for seven days and costing the city of New York almost $20 million. We will make arrests when appropriate, but mass arrests are not the answer."
Last night, from Harlem to Lower Manhattan, people carried signs reading "Black Lives Matter" and chanted Garner's final words: "I can't breathe." Crowds swarmed to police headquarters under high-powered beams of light from police helicopters circling overhead.
Among thousands who gathered in Manhattan's Foley Square was Constance Malcolm, mother of Ramarley Graham. The black 18-year-old was shot dead by police in the Bronx in February 2012. A grand jury didn't charge the white officer who killed him.
"We need police accountability," Malcolm told the crowd. "We can't bury our kids all the time while these officers go home to their families."
In Harlem, Ramon Jimenez, 66, a lawyer from the Bronx, asked for a moment of silence. Not even the Dec. 3 announcement that the U.S. Justice Department would investigate Garner's death has quelled frustration, he said.
"They promise federal intervention as a way to cool us off," he said. "We'll believe it when we see it."
Before it's here, it's on the Bloomberg Terminal.
LEARN MORE