politics
Not Everyone Is Impressed By NASA's Orion Launch
Representative Mark Sanford wonders whether the government should be paying for space exploration.
By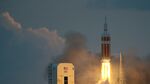 NASA's Orion spacecraft safely completed its first test flight on Friday, taking one small step for the agency's plans to eventually transport people into space. 
And despite the program's price tag, even congressional deficit hawks are willing to overlook government spending when it comes to space travel and the jobs it creates. In a statement, Senator Orrin Hatch called the launch "a major step towards deep-space exploration that is long overdue," while Senator Marco Rubio called it "an exciting new chapter for America's space program and for Florida's continuing role as the nation's spaceport."
When the NASA Authorization Act came up in June, only two representatives voted against it—Paul Broun and Mark Sanford, the latter best known for breaking up with his girlfriend in a Facebook post.
In response to a request for comment on Friday's launch, Sanford's office referred to his earlier post on the NASA vote, in which he argued that, as impressive as space travel is, it would be cheaper in the private sector.
Space exploration is one of the more captivating things mankind has accomplished, and I think the work NASA has done in science and technology is indeed impressive.

But what government has done, is not what government always has to do. [...] The private sector, through companies like Elon Musk's SpaceX or Richard Branson's Virgin Galactic, are making real strides now in the frontier that is space exploration. In fact, SpaceX has a ten year plan for a manned mission to Mars at the very time NASA has plans to do the same. The difference is that NASA plans to spend $4.1 billion in taxpayer funds in doing so and a Blue Ribbon commission announced just a few days ago that NASA was not as far along with plans for that mission as they should be.
Sanford has a point—despite the two private sector disasters this year, the private sector has spent less money developing its own passenger space shuttles. According to The Economist, "SpaceX has spent less than $1 billion developing both the Dragon and the midsized rocket needed to take it into orbit. Officials at the Government Accountability Office guess that NASA might spend $22 billion on Orion and the SLS by 2021, when the first crewed flight is due."
Still, among members of Congress on both sides of the aisle, the social media reaction has been congratulatory.
Before it's here, it's on the Bloomberg Terminal.
LEARN MORE