Smoking in South Korea Is About to Get a Lot Pricier
By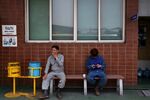 Now that Bill Gates has appeared in a Chinese video about secondhand smoke, President Xi Jinping has a high-profile business ally in his campaign against smoking. The effort is gaining momentum: Last week China's State Council proposed fines on people who light up in public, and on Nov. 28 the Beijing city government approved a ban on sales of cigarettes to minors through vending machines and online. The new law, which will take effect in June, also bans smoking in workplaces, public transport, and other public places.
China isn't the only government in Asia trying to cut down on smoking. There's also a big new cigarette tax in South Korea, where this week the legislature took action on an antismoking proposal President Park Geun Hye's administration unveiled in September. Following the National Assembly's vote, the average cost of cigarettes will nearly double to 4,500 won ($4.05).
One official unlikely to give a boost to Park's antismoking drive is her rival in Pyongyang. As on so many issues, the North Koreans and the South Koreans don't agree when it comes to cigarettes. North Korean leader Kim Jong Un has ordered top officials in the North to show their patriotism by shunning foreign brands and smoking only local cigarettes, South Korean news agency Yonhap reported on Tuesday. Kim "is apparently a habitual smoker," according to Yonhap. "The brand of his cigarettes," the agency added, "has not been confirmed yet."
Thanks to the new tax, Samsung Securities analyst Ilwoo Yang expects a significant drop in demand among South Koreans. Cigarettes sales volume in 2016 will fall about 20 percent compared with 2013, he wrote in a report published on Wednesday. The antismoking campaign has been particularly painful for Korea's top cigarette maker, KT&G (formerly known as Korea Tobacco and Ginseng). Its earnings will decline 18.2 percent next year, according to Samsung Securities, to 701 billion won. KT&G's Seoul-traded shares have lost 15 percent of their value this week.
With so many of their countrymen and women hooked on nicotine, President Park and Korean lawmakers have a tough fight ahead. The smoking rate in South Korea is 42 percent—and even after the new tax takes effect and helps suppress demand, 34 percent of South Koreans will remain smokers, according to Samsung's Yang. That's much worse than in nearby Japan, where only 19.7 percent of adults smoke, the lowest number since Japan Tobacco first started surveying in 1965.
The smoking rate in the U.S. was just 17.8 percent last year, down from 20.9 percent in 2005, the Centers for Disease Control and Prevention announced on Nov. 28.
An effective anti-tobacco drive in South Korea, China, and other parts of Asia would be a major blow to the world's tobacco companies. This is one part of the world where they're counting on growth to counter the declining popularity of cigarettes elsewhere. Euromonitor says tobacco sales in Asia should grow 13 percent annually through 2018, according to a report last month from Bloomberg Intelligence, double the global growth rate.
Before it's here, it's on the Bloomberg Terminal.
LEARN MORE