Hagel Leaves Successor With Two Wars Obama Pledged to End
David Lerman, Eltaf Najafizada and Aziz Alwan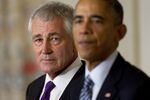 Departing U.S. Defense Secretary Chuck Hagel will hand his successor two intractable wars that President Barack Obama had promised to end.
The battles against Islamic State in Syria and Iraq and against the Taliban and its allies in Afghanistan show no sign of abating, much less ending, as Obama announced today that he's nominating Ashton Carter, who spent more than two years as the Pentagon's No. 2 civilian leader, as his next defense chief.
In Afghanistan, now America's longest war, the capital city of Kabul has become a battleground for daily bombings. At least 10 attacks late last month killed scores of victims and led to the resignation of the city's police chief. Obama has quietly authorized a continuation of offensive air and ground operations in 2015 to protect U.S. forces.
In Iraq, the war Obama thought he had ended in 2011, the rise of Islamic State terrorists has forced the president to authorize a renewed air war over Iraq and Syria and the return of a growing number of American troops on the ground.
A number of U.S. officials, who discussed policy disputes on condition of anonymity, say that's not enough. So do outside analysts such as Anthony Cordesman.
"The Obama administration has yet to demonstrate that it has a successful strategy or plan for dealing with any of these wars," Cordesman, a military analyst at the Center for Strategic and International Studies in Washington, wrote in a report this week titled, "The Obama Administration: From Ending Two Wars to Engagement in Five -- with the Risk of a Sixth."
New Leaders
"Its plan for Afghanistan seems to be to do too little and leave too early, and its plan for Iraq seems to be to react and rely on hope over experience," he said.
Administration officials say progress has been made on both fronts, partly because new political leaders in Afghanistan and Iraq are more supportive of U.S. objectives.
Afghan troops will take full responsibility for their country's security next year, after the U.S. combat mission officially comes to an end this month. A dwindling number of Americans will stay for counterterrorism and training purposes.
By the end of this year, about 9,800 U.S. troops will remain, with that deployment cut by half by the end of 2015. Obama is committed to a timetable that leaves only about 1,000 by the end of his term.
More than 2,300 Americans have died in the 13-year Afghanistan war, more than 20,000 have been wounded, and there's no accurate count of those suffering from brain injuries and post-traumatic stress.
Persistent Shortcomings
So far, even some U.S. military and intelligence officials say there's no evidence that the Afghan military, plagued by corruption and lacking logistical, medical, intelligence and air support, can gain the upper hand over the Taliban and their allies, who maintain safe havens in Pakistan and increasingly in parts of Afghanistan.
Cordesman, in a study on Afghanistan last month, said the U.S. decision to end its combat mission this year comes two to four years before Afghan forces are "fully ready to assume all security responsibilities."
Peter Mansoor, a retired Army colonel who served as executive officer to Army General David Petraeus in Iraq in 2007 and 2008, said Obama's Afghan timetable risks repeating the mistake made in Iraq, when the U.S. pulled out all its troops in 2011 after failing to reach a new security deal with former Iraqi Prime Minister Nouri al-Maliki.
"Any dispassionate observer would recognize the Afghan government is going to need help beyond 2016," Mansoor said. "To simply declare victory and go home would put at risk everything we achieved there to date. This is one of the lessons we should have learned in Iraq in 2011."
Insurgent Attacks
"American efforts to bring peace and stability have failed in Afghanistan, as insurgent attacks are now significantly more frequent than during the early years of the U.S. intervention," Graeme Smith, an analyst with the International Crisis Group in Kabul, said in an interview.
There have been at least 23 "major security incidents" in Kabul since the Sept. 29 inauguration of President Mohammad Ashraf Ghani, "which represents an unusual wave of violence in the capital," Smith said.
The Defense Department has dismissed the upturn as a temporary and predictable response by the Taliban that's had no impact on U.S. transition plans.
Taliban Gains
"What we're seeing in Afghanistan in the last week or so was to be expected," Rear Admiral John Kirby, the top Pentagon spokesman, said at a briefing this week. "It's not atypical for them around periods of transition in Afghanistan, whether it's an election or now -- coming up in December, the end of the combat mission -- for them to try to scare the local populace and terrorize people with sporadic attacks."
Some Afghan officials take a darker view.
"U.S. policy to continue defeating Taliban and training Afghan forces is less successful than the Taliban's increasing operations that are killing and wounding tens of their people and our people by a single suicide bomber," said Abbas Ibrahimzada, a member of the Afghan parliament, in a telephone interview.
Waheed Mujhda, a former Taliban official who's now an independent political analyst based in Kabul, said the uptick in violence "suggests the Taliban have not been weakened, but rather they have been quite successful in doing violence and degrading anyone's morale, including the security officials in Afghanistan."
Islamic State
Some U.S. military and intelligence officials say privately that they aren't much more optimistic about the war against Islamic State in Iraq and Syria, despite the creation of a 60-nation coalition, international efforts to cut off the group's financing and more than 1,000 airstrikes that have slowed the Sunni extremist organization's military momentum.
The rise of Islamic State, a descendant of al-Qaeda in Iraq, a group the U.S. thought it had destroyed four years ago, has forced Obama to return to the war he'd vowed to end since he first ran for president.
Since the U.S. invaded Iraq in 2003 on bogus claims that Saddam Hussein had secret nuclear, chemical and biological weapons programs and ties to al-Qaeda, more than 4,400 Americans have been killed and more than 32,000 wounded, according to Defense Department data compiled by Bloomberg.
The conflict came roaring back in June, when Islamic State forces swept across western Iraq to capture the city of Mosul and seize the Iraq army's artillery, vehicles and other equipment there. Iraqi troops fled instead of fighting.
Iranian Airstrikes
While allied airstrikes, with Iran's air force conducting a separate raid of its own in Diyala province this week, have helped slow Islamic State's momentum in some areas and forced a change in the group's tactics, the Obama administration has conceded that it will take years to destroy the extremists.
Iraqi forces have recaptured a major dam and retained control of the big al-Assad military base in predominantly Sunni Anbar province, but they've made little headway in smaller towns and villages. Fallujah, where the U.S. launched two major military operations during its occupation of Iraq, has been under Islamic State control since January.
"Things have become such a mess," said Ali Khedery, chairman of Dubai-based Dragoman Partners LLC who spent seven years in Iraq advising U.S. ambassadors and military commanders. "The state has lost control of half of the country. It's a disaster. A lot of corruption and sectarianism is endemic."
Oil Agreement
Iraq's new prime minister, Haidar al-Abadi, made headlines this week by revealing payments had been made to 50,000 "ghost soldiers" in the Iraqi army, the equivalent of about four army divisions, in a common form of corruption.
U.S. officials have expressed confidence in Abadi, whom they credit for forming a more inclusive government than his predecessor. In a sign of political progress this week, Abadi's government reached an agreement with the autonomous Kurdish region to share the country's oil wealth and military resources.
Winning the support of Sunni tribes in western Iraq, who felt alienated from Maliki's Shiite-led government, remains more difficult.
Khedery, who advised U.S. ambassadors and military commanders in Iraq from 2003 to 2009, said in a telephone interview that he was at a loss to explain what the U.S. could do now to give Iraq greater security and stability.
Iraqi Frustration
"It's like asking a surgeon what he should do after watching a cancer grow for a decade," Khedery said, referring to Islamic State and its predecessor, al-Qaeda in Iraq. "Iraq is a failed state. Almost everything we tried to do didn't work. The fundamental reality I hear from Iraqis from all sides is that Iran is more powerful than it's been for centuries in Iraq."
Iraqi officials express frustration with the U.S. military effort so far, saying in interviews this week that the airstrikes have been inadequate.
"We thank the U.S. and international coalition for their support, but it's very slow," said Tahseen al-Khafaji, a spokesman for Iraq's defense ministry. "We need more training, more military supplies."
Sheikh Rafi al-Fadawi, one of the Albu Fahad tribal leaders fighting Islamic State forces in western Anbar province, said the airstrikes "are not meeting the needs of the battlefield. We also need more training, more military equipment. We need weapons and ammunition for tribal fighters. We need a rehabilitation of the Iraqi air force, police forces."
Syrian War
The war against Islamic State in Syria is proving even more problematic.
While the extremist group has its de facto headquarters and capital in eastern Syria, the Obama administration is focused largely on Iraq because it has no ground forces in Syria and no intention of deploying any there, the U.S. officials said.
The U.S. estimates that there are about 30,000 Islamic State fighters, about two-thirds of them in Syria, according to a State Department official who briefed reporters this week on condition of anonymity.
Plans to train moderate Syrian rebels have yet to get off the ground and may take as long as three years to complete, Pentagon officials such as Kirby have said.
"Without dealing with the Syrian side of that border, I don't see how the strategy in Iraq can be a success," said Robert Ford, a former U.S. ambassador to Syria, at a conference held by the Foreign Policy Initiative this week.
Moderate 'Fantasy'
The administration also faces pressure from allies such as Turkey to go after the regime of Syrian President Bashar al-Assad -- a step the U.S. so far remains unwilling to take for fear of getting further embroiled in Syria's civil war.
Ford said there's no way to rely on moderate rebels without also taking on Assad's government.
"This administration idea that the Free Syrian Army is going to fight the Islamic State without fighting the Assad regime -- I have to tell you, the word 'fantasy' gets thrown around a lot on Syria," he said. "That is the biggest fantasy."
The Pentagon has estimated that it will need to train 12,000 to 15,000 moderate rebels "to have a real impact on the ground in Syria" against Islamic State, spokesman Kirby said.
"If we're limited to 5,500 or so per year, it's going to take you three years to get there, which is why working with other countries and having other training sites could help us accelerate that," he said.
Obama's Confidence
"I am confident about our ability to push ISIL back in Iraq," Obama told a group of business executives in Washington this week, using an acronym for Islamic State's former name. He called Syria "a more difficult, long-term proposition, in part because the civil war has gotten so bad and the interests of outside parties are so conflicting that it may take time to let that thing settle down."
Khedery, one of the longest-serving American officials in Iraq, said, "It's going to be very messy for a very long time."
That virtually ensures that Hagel's successor -- and Obama's -- will inherit the same conflicts they did. Hagel is stepping down amid unresolved policy disputes with the White House, including over a memo he wrote urging a more assertive approach to Syria.
Ex-Ambassador's Optimism
While Obama and his aides plead for patience, the president and his next defense secretary, who will be his fourth, face growing pressure from their military advisers and Republican critics to take bolder action and commit more resources to both wars.
James Jeffrey, Obama's former ambassador to Iraq who's criticized the administration for being too passive, said he's now hopeful that Iraq can be salvaged.
"We're setting ourselves up to be able to make headway," said Jeffrey, now a visiting fellow at the Washington Institute for Near East Policy. "We're moving slowly towards a more active policy to deal with ISIS and Assad in a more serious way," he said, using another acronym for Islamic State.
In Iraq, Jeffrey said, that effort is likely to require more American advisers and air controllers to serve as spotters on the ground. In Afghanistan, the U.S. officials said, averting disaster will require revisiting the timetable for withdrawing all combat troops and providing Afghan forces more time and support.
In both wars, the officials said, the administration must face the reality that ending the wars that began under former president George W. Bush on Obama's timetable risks leaving new turmoil and terrorist havens behind.
Before it's here, it's on the Bloomberg Terminal.
LEARN MORE