Grand Theft Auto V Faces a Growing Backlash in Australia and New Zealand
By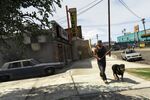 It's been a good year for investors in Take-Two Interactive Software, the makers of the hit video game series Grand Theft Auto. The New York-based company's stock price is up 62 percent this year, thanks in part to the success of subsidiary Rockstar Games' Grand Theft Auto V.
There's one part of the world where things haven't been going so well for Take-Two. In Australia and New Zealand, some retailers are refusing to sell GTA V. The backlash started in New Zealand with Stop Demand, a group fighting sexual violence against women. Last month, it praised retailer Warehouse Group for removing the game after lobbying by Stop Demand.
The campaign is spreading across the Tasman Sea. Two days ago, Australia's largest retailer, Target, said it would stop selling GTA V after receiving feedback from customers. "This is not a product they want us to sell," Jim Cooper, general manager of corporate affairs at Target Australia's parent, Wesfarmers, told Bloomberg.
Now a second Australian chain says it won't offer this kind of content to its customers, either. Kmart Australia, which operates 170 stores in the country, today said it won't carry the game, according to reports by public broadcaster Australian Broadcasting Corp. and other local media. Perth-based Wesfarmers owns Kmart, in addition to Target, in Australia. "Following a significant review of all content in Grand Theft Auto Games, Kmart has taken the decision to remove this product immediately," a Kmart spokesman said, the ABC reported. "Kmart apologises for not being closer to the content of this game."
Customers are objecting to content like a clip (as reported in Bloomberg Businessweek's cover story last week) that "features a first-person character who picks up a sickly looking hooker on the street, has sex with her in his car, then gets annoyed with her chattering and punches her in the face before running her over and driving away."
The news prompted celebration at Change.org, where a petition calling on Target Australia to stop carrying Grand Theft Auto has gathered more than 45,000 supporters since it began on Saturday. (Conversely, a petition asking Target to keep selling the game has collected 4,000 signatures.) "This is a huge win," wrote one of the organizers of the drive who uses the screen name Nicole Survivor. "You've helped send a message to family retailers and brands that their consumers have had enough, and they've started listening."
The Australian opponents of the game aren't finished. Following up on their victories, they want other retailers to follow Target's lead. "We're now asking outlets like Big W and Woolworths whether they're going to stand up against Grand Theft Auto's violence against women as well," Nicole Survivor wrote yesterday.
Before it's here, it's on the Bloomberg Terminal.
LEARN MORE