Euro-Area Bonds Advance on Speculation of ECB Purchases
David Goodman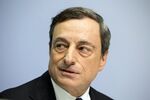 Euro-area bonds rose, with Italy's 10-year yield dropping to a record, as the European Central Bank was said to be preparing a broad-based asset-purchase plan, including sovereign debt, to consider at its January meeting.
The rates on Portuguese and Spanish 10-year securities reached all-time lows after two central bank officials said yesterday the proposal, known as quantitative easing, was envisaged to include various types of bonds and not encompass equities. Euro-region government securities fell yesterday after ECB President Mario Draghi said the central bank will wait until next quarter before assessing whether additional stimulus measures are required to boost inflation.
"The big picture hasn't really changed," said Jan von Gerich, an analyst at Nordea Bank AB in Helsinki. "Some people were hoping for ECB action yesterday and now it will be early next year. We still haven't seen the lows," for periphery and core bond yields, he said.
Italian 10-year yields dropped six basis points, or 0.06 percentage point, to 1.97 percent as of 4:30 p.m. London time, and touched 1.944 percent, the lowest since Bloomberg started tracking the data in 1993. The 2.5 percent bond due in December 2024 rose 0.56, or 5.60 euros per 1,000-euro ($1,230) face amount, to 104.825. Portugal's 10-year yield slid as much as eight basis points to 2.725 percent, the least on record.
The rate on similar-maturity Spanish debt fell nine basis points to a record-low 1.803 percent. The yield on Greece's 10-year debt dropped 35 basis points to 7.24 percent.
ECB QE
No decision on implementing quantitative easing has been taken yet and the composition of the program may be influenced by incoming data, the officials said. An ECB spokesman declined to comment. The central bank kept its main refinancing rate at a record-low 0.05 percent yesterday, as forecast by all 54 analysts in a Bloomberg News survey.
With inflation languishing below the ECB's goal of just under 2 percent and the market's price-growth expectations crumbling as oil prices decline, the central bank has already started purchases of covered bonds and asset-backed securities, introduced a negative deposit rate and started a program of targeted longer-term loans.
Draghi said yesterday that stimulus measures are intended to increase the ECB's balance sheet by as much as 1 trillion euros. While the ECB has previously bought sovereign debt under its now-defunct Securities Market Program, it has thus far stopped short of the full-scale sovereign quantitative easing used by its counterparts in the U.S., U.K. and Japan.
Inflation Slows
The five-year, five-year forward inflation swap rate, highlighted by Draghi in August at a symposium for central bankers, was little changed at 1.80 percent today. It closed at a record-low 1.7225 percent on Oct. 15. The annualized euro-area inflation rate was at 0.3 percent last month, matching the lowest since October 2009. Brent crude tumbled 1.5 percent to $68.59 a barrel in London, down about 40 percent this year.
Royal Bank of Scotland Group Plc expects QE next quarter, strategists including Giles Gale wrote in a note yesterday.
"If oil doesn't go back up, it's January, not March," which will see the start of QE, they wrote. The strategists "see an upside" to their target of 0.65 percent for German 10-year yields and 100 basis points for the Italy-Germany yield spread, the note said, meaning bonds could rise higher than these forecasts suggest.
Spread Narrows
The extra yield, or spread, that investors get for holding Italian 10-year bonds instead of similar-maturity German securities shrank by as much as 10 basis points to 116 basis points today, the narrowest since July 2010.
Benchmark German bunds were little changed even as a U.S. Labor Department report showed employers added the most jobs since January 2012 in November. Germany's 10-year yield was at 0.78 percent. The rate climbed seven basis points over the previous four days, after dropping to a record 0.69 percent on Dec. 1.
Treasury 10-year note yields jumped eight basis points to 2.32 percent.
A report today showed gross domestic product in the 18-nation currency bloc increased 0.2 percent in the third quarter, matching an initial estimate published last month.
Italy's government securities returned 14 percent this year through yesterday, Bloomberg World Bond Indexes show. Spain's earned 15 percent and Germany's 8.6 percent.
Before it's here, it's on the Bloomberg Terminal.
LEARN MORE