China Party Expels Former Security Chief for Leaks, Graft
Ting Shi and Bonnie Cao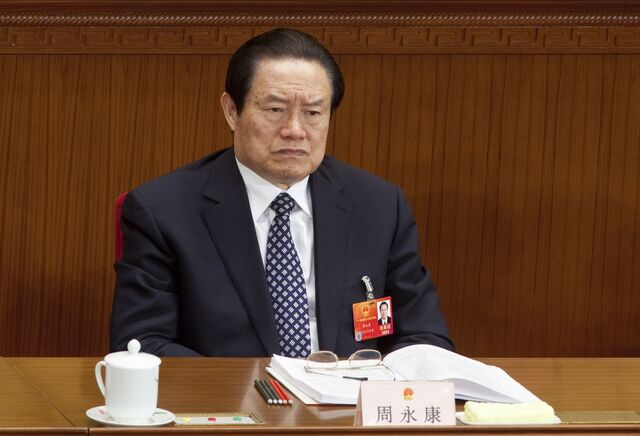 China's Communist Party expelled former security chief Zhou Yongkang, accusing him of leaking official secrets in addition to expected graft allegations.
An investigation found Zhou "seriously violated the Party's political, organizational and confidentiality discipline," the official Xinhua News Agency reported shortly after midnight today, citing a government statement. Zhou abused his powers to help his friends make profits and accepted "huge bribes" personally and through his family, it said.
Any trial of Zhou, a former member of the party's top decision-making body, the Politburo Standing Committee, will be a showcase event in President Xi Jinping's efforts to bolster his power base and curb the corruption that he's warned could erode the party's power.
"The Chinese regime really is taking a turn toward something probably less corrupt, but more importantly, a vision of a different kind of political system," said Barry Naughton, a professor of Chinese economy at the University of California at San Diego. The system will be neither the one former leader Deng Xiaoping created nor the one Westerners assumed would evolve, Naughton said in a phone interview today.
Zhou, 71, is the highest-level official to fall in China's bid to sweep away both "tigers and flies" in the anti-graft campaign.
Politburo Decision
The expulsion of Zhou was decided at a meeting of the Communist Party's Central Committee's Political Bureau yesterday, Xinhua said. Zhou has been formally arrested and the Supreme People's Procuratorate started investigating his suspected crimes, according to Xinhua.
"We need to advance the anti-corruption drive through the investigation of Zhou's serious violations of Party discipline," People's Daily wrote in an unsigned commentary dated Dec. 6. "We must stick to the attitude of no tolerance, the resolve of strong treatment, the courage to scrape poison from the bones, and the measure of severe punishment."
Zhou allegedly leaked Communist Party and government secrets, Xinhua said, without giving details. He also abused his power to help relatives, mistresses and friends do business, obtaining "huge" profits and causing the loss of state-owned assets, Xinhua reported.
Zhou is also accused of committing adultery with a number of women, and there's evidence of his having committed additional crimes, Xinhua said, without elaborating.
'Scorched Earth'
"It's part of Xi Jinping's governing style that he wants to show that the level of control that he exerts is bigger and more comprehensive than anybody before him," UCSD's Naughton said. "And so he's destroying Zhou Yongkang on every level -- legally, politically, morally. In a way, it's kind of a scorched-earth policy."
China National Petroleum Corp. will "resolutely support" the Party leadership's decision on Zhou, the state-owned company said in a statement on its website today. Zhou was previously CNPC's chairman.
Ahead of the announcement in July that Zhou was under investigation, an 18-month campaign against officials and businessmen associated with him saw cadres across China being taken for questioning and held incommunicado without trial, often for months.
Bo Xilai
In September 2012, the party evicted Zhou's ally, former Chongqing party chief Bo Xilai, who was convicted of abuse of power and bribery in 2013 in a public trial and sentenced to life in jail.
A member of the Standing Committee until November 2012, Zhou hasn't been seen in public since October last year. Xi's campaign against corruption had already targeted dozens of people with connections to Zhou's various power bases including China's oil industry, where Zhou spent three decades and rose to lead CNPC in the 1990s.
The Communist Party Central Committee's fourth plenary session, which ran on Oct. 20-23 in Beijing, approved the stripping of party membership of six officials and formally expelled them from the committee. Four of them were linked to the Zhou case.
Before it's here, it's on the Bloomberg Terminal.
LEARN MORE