Fast-Food Strikes Hit Record Numbers, Span 190 Cities
By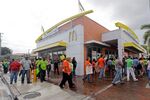 Fast-food workers went on strike Thursday in close to 200 cities, the most widespread walkouts the industry has seen to date. And for the first time, convenience and dollar store workers joined them.
The number of strikers ("thousands," the campaign said yesterday) was no doubt a tiny fraction of the mammoth fast-food industry. But the protests have already spread further and accomplished more than most people thought possible when they emerged two years ago. In November 2012, a couple hundred fast-food workers in New York City staged the first strike of its kind against the virtually union-free industry. Yesterday, according to organizers, fast-food workers in more than 190 cities walked off the job. In a new front for the campaign, convenience store or dollar store workers, who started joining fast-food workers at meetings in recent months, were also out on strike in cities including Philadelphia, Chicago, and Atlanta. Organizers say those strikes involved hundreds of workers, in 21 cities, targeting companies including Dollar Tree, Dollar General, Family Dollar, Shell, Sunoco, and BP. At a Speedway in St. Louis, workers started their strike by lying down inside their store, an act of protest against the killings of Michael Brown and Eric Garner by police.
"I need this just as bad as anybody else does," said Crystal Nelson, who went on strike for the first time from her job at a Phillips 66 Gas Mart in Grandview, Mo. Nelson, who heard about the campaign from friends who work in fast food, told Bloomberg Businessweek the demands for a $15 hourly wage and a union would allow her to support her kids without food stamps. "I think the more people that we have interested in this, the more publicity we'll get, and recognition," Nelson added.
Publicity and public recognition are key to the campaign, which is primarily funded and directed by the Service Employees International Union. Like the high-profile retail strikes at Wal-Mart that also kicked off in fall 2012, it's an effort to transform a growing low-wage industry, and overcome some obstacles that have bedeviled past labor efforts: a government unionization process that organizers contend is rife with opportunities for delay and intimidation; legal and economic shifts that make it harder to pull off traditional strikes; and shifting industry structures in which the real decision-makers (in this case, fast-food corporations) are often different from the companies that legally employ the workers (in this case, individual franchisees).
Rather than organizing store-by-store to try to win unionization elections (which, even if successful, could just trigger fast-food corporations to dump the franchisees), or trying to shut down substantial numbers of stores with strikes, the fast-food effort uses one-day walkouts, usually involving just a minority of the workforce, that anchor broader campaigns of media, political, and legal pressure. The idea is to compel the top national fast-food corporations to agree to hike pay and make it easier for workers to unionize. Versions of that strategy have spread to other industries, because the same challenges are afflicting organizing efforts there as well.
Is it working? So far, the strikers have spurred improvements at individual stores, as well as legislation in cities across the country to mandate major hikes in the minimum wage. "I remember everybody just saying these workers are crazy" to ask for $15 an hour, says Fast Food Forward Organizing Director Kendall Fells. "Now it's become clear that the workers are not crazy," he says, citing the passage of plans in Seattle and San Francisco to eventually institute a $15 wage floor across the board.
While some politicians have embraced the call for $15, the fast-food industry remains defiant. "The union-led demonstrations are orchestrated PR events designed to push their own agenda while attacking an industry that provides opportunity to millions of Americans," the National Restaurant Association said in a statement. Still, organizers insist they've made big strides toward forcing fast-food giants to negotiate. "We haven't had conversations with McDonald's," Fells says, "but all indications are that they are in a frenzy inside."
Before it's here, it's on the Bloomberg Terminal.
LEARN MORE