Family Dollar Judge Urged to Block Dollar Tree Bid Vote
Jef Feeley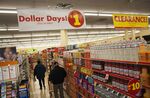 A judge is weighing whether to block Family Dollar Stores Inc. shareholders from voting on Dollar Tree Inc.'s $8.5 billion buyout bid until the discount chain's executives fully explore Dollar General Corp.'s competing offer.
Family Dollar directors are improperly refusing to negotiate with Dollar General executives about the Goodlettsville, Tennessee-based retailer's $80-a-share bid to buy the second-largest U.S. discount chain and shouldn't be allowed to proceed with the Dollar Tree vote, investors' lawyers told Delaware Chancery Court Judge Andre Bouchard yesterday.
"We want you to enjoin the vote until directors avail themselves of their right to exchange" information with Dollar General about a potential buyout, Donald Enright, a lawyer for disgruntled Family Dollar investors, argued at a hearing in Wilmington. Bouchard said he'd rule later on the injunction request.
The judge's ruling could clear the way for the Dec. 23 shareholder vote on the deal, which would create the largest U.S. discount chain by the number of stores, dominating a segment of retail that has generally prospered amid competition from online rivals and consumer restraint in the choppy economic recovery.
The Family Dollar bidding war began in July, when the company agreed to be acquired by Chesapeake, Virginia-based Dollar Tree. That deal would merge the dollar-store market's No. 2 and No. 3 companies, with about 8,000 and 5,300 stores, respectively. Dollar General then stepped in with an unsolicited bid, aiming to maintain its perch atop the industry.
Antitrust Concerns
After that offer was rejected because of antitrust concerns, Dollar General bumped its bid to $80 a share in cash, or $9.1 billion. Along with the sweetened offer, it pledged to divest itself of as many as 1,500 of its 11,500 locations to placate regulators.
After Matthews, North Carolina-based Family Dollar turned down that offer, Dollar General executives responded by making a tender offer in September, saying its target was using antitrust concerns as a pretext to favor Dollar Tree's inferior offer.
Family Dollar's directors contend they acted reasonably in rejecting Dollar General's offer and not seeking to engage in talks with its rival because of antitrust conflicts inherent in the deal, Mitchell Lowenthal, one of the company's lawyers, told Bouchard.
Board members knew Dollar General's offer to sell 1,500 stores to solve the antitrust issues "was a non-starter, dead on arrival," Lowenthal told Bouchard. The company's internal analysis showed Dollar General would have to sell more stores to satisfy regulators and pave the way for the transaction, the lawyer added.
'Good Progress'
Dollar Tree said yesterday the U.S. Federal Trade Commission has indicated it would need to divest no more than 500 stores for its offer to win approval. It also said in its statement that regulators may want Dollar General to divest itself of more than 1,500 stores.
Dollar General countered in its own statement that it has made "good progress" in talks with the FTC and is seeking to convince regulators the combination with Family Dollar wouldn't hurt customers because competition with Wal-Mart Stores Inc. would force it to keep prices low.
Family Dollar and Dollar General have similar business models, with the chains selling products at multiple prices and mostly catering to low-income shoppers. Dollar Tree, in contrast, attracts more middle-class consumers and sells most of its items at $1.
The case is In Re Family Dollar Stores Inc. Stockholder Litigation, CA No. 9985, Delaware Chancery Court (Wilmington).
Before it's here, it's on the Bloomberg Terminal.
LEARN MORE