Fabiola, Belgium's Queen Consort for 33-Year Reign, Dies at 86
James G. Neuger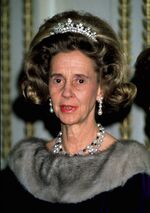 Fabiola, who as the wife of King Baudouin was the second-longest-serving queen consort in the history of Belgium, has died. She was 86.
She died today at the Chateau du Stuyvenberg in Brussels, according to a statement from the royal palace. No cause of death was given.
Spanish-born Fabiola was queen from 1960 until her husband's sudden death of a heart attack in 1993. An outpouring of sympathy for the childless Fabiola made her a revered figure, and a regular presence on Belgian royal occasions, for the rest of her life. In later years, she spoke openly about her five miscarriages.
Only Marie-Henriette of Austria, who was Belgium's queen consort for almost 37 years as the wife of Leopold II, exceeded Fabiola's tenure. Coiffed like a character from a Spanish court painting, the widowed Fabiola retained her monarchical title, promoting medical and Catholic causes and presiding over an annual competition for young musicians.
Due to the couple's lack of offspring, Baudouin was succeeded by his brother, Albert II, who reigned for two decades until abdicating in July 2013. He made way for his son Philippe, Fabiola's nephew.
Fabiola's above-the-fray image was tarnished in 2013 by allegations that she used one of her government-financed foundations as a tax-preferred way of aiding relatives in Spain. Fabiola dissolved the foundation and the Belgian government cut her staff budget, as part of a broader set of austerity measures imposed on the royal family.
Early Years
Dona Fabiola Fernanda Maria de las Victorias Antonia Adelaida de Mora y Aragon was born in Madrid on June 11, 1928. One of seven children, Fabiola was the daughter of a Spanish nobleman. Trained as a nurse, Fabiola worked at a hospital in Madrid before marrying Baudouin in December 1960.
One of her first acts as queen was to publish a book of fairy tales. In one of the stories, seven children of the stars disregard the wise counsel of the lunar fairy and are transformed by an evil witch into Indian water lilies.
Before it's here, it's on the Bloomberg Terminal.
LEARN MORE