Dimon Says Tests Find No Evidence of Cancer After Treatment
Michael J. Moore and Michelle Fay Cortez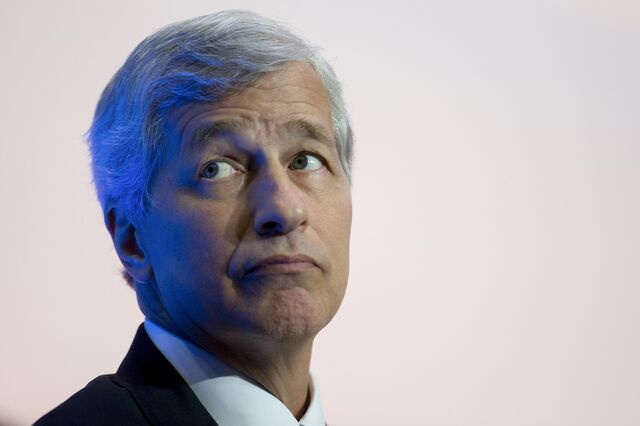 JPMorgan Chase & Co. Chief Executive Officer Jamie Dimon, who was diagnosed with throat cancer earlier this year, said tests this week showed no evidence of the disease in his body.
"The results came back completely clear," Dimon said today in a memo to employees of the New York-based bank. "While the monitoring will continue for several years, the results are extremely positive and my prognosis remains excellent."
Dimon, 58, who has led JPMorgan since 2006, disclosed July 1 that he would begin two months of radiation and chemotherapy. He continued to work during treatment, and has resumed public appearances in the past two months.
Dimon said at an event in Washington this week that he's at about 80 percent strength and is running as many as 2.5 miles (4 kilometers). In October, he said cancer hasn't altered his plans to keep working at JPMorgan, the largest U.S. bank.
"Investors should be happy he's back and healthy and likely to be around for a long time," said Jeff Harte, an analyst at Sandler O'Neill & Partners. "Also, when he dialed things back we got some evidence that there are lot of good people at JPMorgan that are making the businesses work."
JPMorgan climbed 2.2 percent to $62.74 at 12:42 p.m. in New York. The shares advanced 7.3 percent this year, trailing the 8 percent gain for the 24-company KBW Bank Index.
Cleveland Clinic
Getting the all-clear with no signs of lingering cancer is the best prediction of future health, said Brian Burkey, a head and neck cancer surgeon at the Cleveland Clinic in Ohio. Treatment for throat cancer is arduous, typically chemotherapy and radiation, and doctors and patients need to be on the lookout for a relapse for the next two years, he said.
"It's very important that the tumor goes away," he said in a phone interview. "For most throat cancers, the critical period is the first 12 to 24 months for a recurrence."
Of the tumors that return, 90 percent occur within two years, said Burkey, who wasn't involved in Dimon's care. They are often spotted during one of the routine checkups done every three months. Re-treatment is often successful, provided the cancer hasn't spread beyond the neck, he said.
"Especially since my diagnosis, I followed the advice I give to others – take care of your health first – nothing is more important," Dimon said in today's memo.
Before it's here, it's on the Bloomberg Terminal.
LEARN MORE