Oil Poised to Extend Drop After Hitting Five-Year Low
Mark Shenk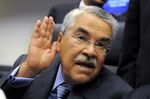 West Texas Intermediate and Brent crudes are poised to decline from the lowest closing levels in more than five years after shrugging off a sign that the market has dropped too fast.
The 14-day relative strength index for WTI slipped to 27.0364 yesterday, according to data compiled by Bloomberg. Investors typically start buying contracts when the reading is below 30. The 14-day RSI for Brent slipped to 23.6843. The move highlights the extent of the bear market in the face of technical support.
"We're way oversold in both Brent and WTI, not to mention the products, and the market's not responding," Bob Yawger, director of the futures division at Mizuho Securities USA Inc. in New York, said by phone yesterday. "A market that ignores these bullish signals is heading much lower."
Futures fell 1.5 percent in New York and 0.8 percent in London yesterday. State-run Saudi Arabian Oil Co. extended its discount for Arab Light sales to Asia next month to $2 a barrel below a regional benchmark, according to a company statement Dec. 4. That's the lowest in at least 14 years. The slide in prices accelerated as the dollar surged to a five-year high, curbing the appeal of commodities as a store of value.
WTI for January delivery dropped 97 cents to $65.84 a barrel on the New York Mercantile Exchange yesterday. It was the lowest settlement since July 29, 2009. Prices are down 33 percent this year.
Brent Spread
Brent for January settlement fell 57 cents to end the session at $69.07 a barrel on the London-based ICE Futures Europe exchange. It was the lowest close since Oct. 7, 2009. Prices have slipped 38 percent in 2014. The European benchmark closed at a $3.23 premium to WTI, up from $2.54 on Dec. 3.
"We're seeing some firming up of the Brent-WTI spread," Tim Evans, an energy analyst at Citi Futures Perspective in New York, said by phone yesterday. "The spread was crushed by the inventory data on Wednesday and narrowed to less than $3. We're seeing it return to a more sensible level."
WTI climbed while Brent dropped on Dec. 3 after an Energy Information Administration report showed that U.S. crude stockpiles fell 3.69 million barrels in the week ended Nov. 28.
Saudi Aramco's Arab Light discount, which widened from 10 cents for December, is the steepest in data compiled by Bloomberg since June 2000. Its Arab Medium grade, which Iran, Iraq and Kuwait have followed in the past, was cut to the lowest since January 2009. The state-run oil company also reduced all January price differentials for U.S. customers.
Maintaining Target
Futures slumped 18 percent last month as the Organization of Petroleum Exporting Countries maintained its output target, letting prices decrease to a level that may slow U.S. production growth. Saudi Arabia's Oil Minister Ali Al-Naimi resisted calls from OPEC members to trim production at a Nov. 27 meeting in Vienna. The group has maintained an official target of 30 million barrels a day since January 2012.
Saudi Arabia has no price target and will let the market decide at what level oil should trade for now, said a person familiar with its policy.
"The market's responding to a double whammy of Saudi pressure," Yawger said. "The market was still feeling the aftereffects of the OPEC meeting and then the Saudis dropped the hammer with their $2 cut in the OSP. This will take several days to play out and we still have to see how their rivals respond."
OPEC's 12 members pumped 30.56 million barrels a day in November, exceeding their collective quota for a sixth straight month, according to a Bloomberg survey of oil companies, producers and analysts.
U.S. Output
U.S. oil production expanded to 9.08 million barrels a day through Nov. 28, the fastest rate in weekly records that started in January 1983, the EIA said Dec. 3.
OPEC has lost its market power because of shale, Jeffrey Currie, head of commodities research at Goldman Sachs Group Inc., said at an event in Santiago yesterday.
The dollar climbed against most of its major peers yesterday on speculation that the improving U.S. employment picture may influence the Federal Reserve as it considers when to raise interest rates next year. The Bloomberg Dollar Spot Index is up 12 percent since June, while the Bloomberg Commodity Index has slumped 17 percent over the same period.
"The strengthening dollar is going to put additional downward pressure on oil and other commodities," John Kilduff, a partner at Again Capital LLC, a New York-based hedge fund that focuses on energy, said by phone yesterday. "The divergence between the U.S. economy and those elsewhere will continue to strengthen the dollar and undermine any strength in the crude market."
WTI may fall next week, a Bloomberg survey showed. Nineteen of 36 analysts and traders, or 53 percent, predict futures will decrease through Dec. 12, while six forecast a price gain.
Fuel Prices
Gasoline futures decreased 2.14 cents, or 1.2 percent, to end the session at $1.7734 a gallon in New York yesterday. It was the lowest settlement since Oct. 9, 2009. Diesel slipped 0.99 cent, or 0.5 percent, to $2.1078, the lowest settlement since Sept. 22, 2010.
Regular gasoline at U.S. pumps fell to the lowest level since October 2010. The average retail price slipped 1.7 cents to $2.711 a gallon Dec. 4, according to Heathrow, Florida-based AAA, the nation's biggest motoring group.
Before it's here, it's on the Bloomberg Terminal.
LEARN MORE