Aquino Faces Philippine Typhoon Test a Year After Haiyan
Norman P. Aquino, Cecilia Yap and Clarissa Batino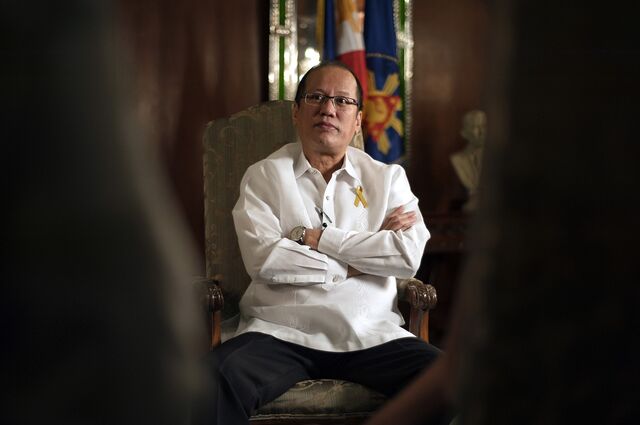 Typhoon Hagupit is set to lash the central Philippines from early tomorrow, heading toward Manila in a new test of President Benigno Aquino's leadership a year after he earned low marks over his handling of the deadly Typhoon Haiyan.
Aquino two days ago began ordering evacuation of thousands to safer ground and stockpiling of food in preparation for the latest storm. Last year he was criticized for not doing enough to prepare for Haiyan and taking two days to visit victims.
"Reconstruction following Typhoon Haiyan has moved at a snail's pace and has highlighted the gap between well-publicized commitments by the government and delivery of these pledges on the ground," Eufracia Taylor, Asia analyst at Maplecroft, a U.K. research company, said in an e-mail. "Confidence in the government's capacity to respond effectively to the fallout from Typhoon Hagupit is considerably low."
Hagupit -- "whip" in Filipino -- was centered about 250 nautical miles (460 kilometers) east-southeast of Manila, with winds gusting to 135 knots (250 kilometers per hour), according to the latest update from U.S. military's Joint Typhoon Warning Center, which forecasts the storm will pass within 36 nautical miles of the Philippine capital late on Dec. 8.
The typhoon may make landfall later tonight in the central Philippine province of Northern Samar, local forecaster Alvin Pura said by phone.
'High Impact'
As many as 12.9 million people may be affected, the United Nations' Global Disaster Alert and Coordination System said on its website. Hagupit "can have a high humanitarian impact."
Maplecroft ranks the Philippines second to Japan as at-risk from tropical storms. Super Typhoon Haiyan, the strongest recorded cyclone ever to hit land, killed more than 6,200 people and left more than 1,000 missing in November 2013.
Parts of Tacloban City, center of Haiyan's devastation last year, lost power this afternoon, Blanche Gobenciong, regional civil defense director, said by phone. The water level in the Catubig River in Northern Samar has risen, she said.
Aquino's popularity eroded after efforts to deliver local and foreign relief supplies to Haiyan victims were hampered by gridlock and damaged roads, and further complicated by a lack of running water and power failures over a large swath of territory.
The disaster risk agency today said 616,550 people have been evacuated from high-risk areas, 88 domestic flights were canceled and 49 sea trips suspended. The Office of Civil Defense yesterday ordered the dismantling of billboards and market tents in the southern provinces of Cavite, Laguna, Batangas and Quezon. Local governments in danger zones were told to prune trees along major roads.
'Concrete Plans'
"To show people he means business, Aquino must come up with concrete plans, including relocating people to higher ground to solve typhoon-related problems in the long term," Benito Lim, a political science professor at the Ateneo de Manila University, said by phone. "He can't just give victims a kilo of rice, three cans of sardines and five packs of instant noodles every time a disaster strikes. He must also provide sources of livelihood."
Tacloban Mayor Alfred Romualdez said the local government forced coastal residents to evacuate so it can focus on clearing roads of debris that Hagupit will leave behind, according to news website InterAksyon.
Lessons Learned
The government is applying lessons learned last year, Social Welfare Secretary Dinky Soliman said at a televised briefing yesterday. "It's no longer difficult to effect evacuation as people voluntarily do it, especially in areas hit by Haiyan."
A U.S. team will arrive in the Philippines today to monitor the storm and coordinate with agencies and humanitarian groups, the U.S. Agency for International Development said in an e-mailed statement. A team from the 3rd Marine Expeditionary Brigade is also coming and more U.S. government personnel in the region are on standby, it said.
The benchmark Philippine Stock Exchange Index yesterday fell 0.9 percent in Manila to 7,230.56, the lowest close since Nov. 17. The peso rose 0.3 percent.
"It's now more certain that we are on the typhoon's path," said Allan Yu, who helps manage $7.3 billion as first vice president at Metropolitan Bank & Trust Co. "Many investors are taking profit, worried by the damage this will cause on infrastructure and the impact it will have on growth."
Global aid agency Mercy Corps will send warning messages by mobile phone to 20,000 of its beneficiaries hit hardest by Haiyan, it said in an e-mailed statement yesterday.
"Hagupit is a test for the president, given the flak that he received because of the slow government response to Haiyan last year," said Ramon Casiple, executive director of the Institute for Political and Electoral Reform in Manila. "The proof of the pudding is in the eating, and we can judge him after the disaster strikes."
Before it's here, it's on the Bloomberg Terminal.
LEARN MORE