Glock vs. Smith & Wesson: A Shootout for the Pentagon's New Pistol Contract
Paul M. Barrett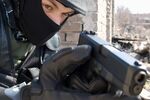 For gun manufacturers, no customer rivals the Pentagon for prestige and revenue potential. That's why, after years of anticipation, firearm makers are mobilizing for the U.S. Army's imminent competition to replace the Beretta M9 pistol, the American soldier's standard sidearm since 1985.
The procurement process for several hundred thousand new pistols formally begins in January and is expected to last about two years. Based on more than 15 years of reporting on the gun business, I'd identify the early favorites as a much-improved Smith & Wesson, which enjoys a made-in-the-USA marketing edge, and the formidable Glock of Austria.
For a second opinion, I asked longtime industry consultant and former National Rifle Association organizer Richard Feldman for some snap handicapping. "Beretta starts with a 30-year history of supplying the Army, and that counts for something," said Feldman, now the president of the Independent Firearm Owners Association, an advocacy group based in Rindge, N.H. "S&W, which lost a lot of police and civilian business to Glock in the 1980s and 1990s, has transformed itself into a modern firearm manufacturing enterprise with much better quality than in the past. Glock, barely in existence the last time this contract was up, is undeniably a powerful contender."
"Oddly," Feldman continued, "Colt, despite its iconic role in American firearm history, isn't even a contender." That won't come as news to readers of Bloomberg Businessweek. We've charted the demise of West Hartford (Conn.)-based Colt under the control of latter-day private equity owners.
Pentagon officials have been talking for years about shelving the semiautomatic M9, made by an American unit of the Italian-owned Beretta. Daryl Easlick, a project officer with the Army's Maneuver Center of Excellence at Fort Benning, Ga., told the website Military.com in July that the Pentagon would replace its entire inventory of 9mm Berettas for something more accurate, lethal, and reliable: "It's a total system replacement—new gun, new ammo, new holster, everything."
Handguns are secondary weapons for rank-and-file infantry soldiers armed with rifles. Pistols are carried by certain officers, tank crew members, truck drivers, special operations troops, and others on the battlefield.
For years, front-line war fighters have complained that the M9′s 9mm round lacks sufficient stopping power. "The 9mm doesn't score high with soldier feedback," Easlick told Military.com. The Army and its sister services—the Marines, Air Force, and Navy—want a sidearm and ammunition round that will cause more damage, he said. "We have to do better than our current 9mm."
In a sense, the military appears poised to go back to the future. The Beretta 9mm replaced a Colt .45 caliber model that had served as the Army standard for generations. The .45 round is larger and therefore deadlier than the 9mm. In the 1980s, however, the Pentagon decided to follow the lead of NATO allies that preferred lighter, less expensive 9mm ammunition.
Underscoring its determination to return the military pistol contract to American hands, S&W recently announced a joint venture with defense-contracting heavyweight General Dynamics. Their handgun candidate will be based on a model called the M&P (for military and police). "This partnership combines General Dynamics' proven legacy in manufacturing military armaments with Smith & Wesson's extensive experience in designing and manufacturing firearms for commercial applications," Tim McAuliffe, a General Dynamics vice president, said in a Nov. 24 statement.
Glock revolutionized the handgun marketplace beginning in the mid-1980s, when as an infant company it introduced the first modern large-capacity pistol made primarily from industrial-strength plastic, known as polymer. S&W and other manufacturers spent years trying to catch up to the innovative Austrian manufacturer founded by Gaston Glock in a garage workshop next to his suburban Vienna home.
Over the years, Glock has won the business of two-thirds of municipal and state police departments in the U.S., as well as federal agencies such as the FBI and DEA. A number of military special-ops units that choose their own small arms outside of the main Army procurement channels use the Glock, as well. The Austrian gun is known for its ease of use and reliability under adverse conditions.
An oddball factor could impede Glock, however. Its 85-year-old billionaire founder and owner is locked in a fierce legal wrestling match against his ex-wife, Helga, who helped him get the company aloft. She claims he cheated her out of her rightful share of the manufacturing empire, as well as hundreds of millions of dollars in cash.
In a civil racketeering suit filed in federal court in Atlanta in October, Helga Glock accused her former spouse of theft, money laundering, and sundry other financial illegalities. Gaston Glock has denied wrongdoing and accused his ex-wife of disingenuously escalating their Austrian divorce hostilities to extract more money from him.
The merits of Helga Glock's suit will likely take a while to get sorted out. In the meantime, though, the Pentagon might hesitate to engage with a foreign corporation alleged to have used shell companies to transfer firearm profits away from the U.S. and toward low-tax jurisdictions in the Caribbean, Latin America, and Europe.
Before it's here, it's on the Bloomberg Terminal.
LEARN MORE