Vodafone Joins BT Weighing Mobile Bundles That Nobody Wants, Yet
Amy Thomson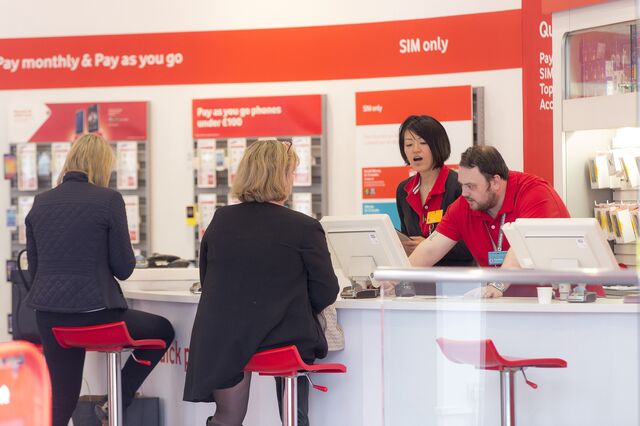 As Vodafone Group Plc and BT Group Plc consider billions of pounds of takeovers to be able to offer TV, Web, home phone and mobile under one monthly bill, they risk ignoring one detail: U.K. consumers aren't buying such bundles.
Fewer than 2 percent of U.K. households buy the four services together, according to regulator Ofcom's August report. Far more popular are combinations of fixed-line packages of TV, broadband and home phone, with more than 50 percent taking some combination of those, according to the report.
"Trends in the home are that people happily take broadband, telephony and TV from the same provider," Guy Peddy, an analyst at Macquarie Group in London, said in an interview. "Adding mobile is slightly different. Not everyone in the household will have the same solution."
There are signs of "quadruple play" packages catching on in France and Spain. The long-term success of the bundles is likely to depend on whether carriers can offer the services at a discount and drive the technology to a point where customers can switch seamlessly between mobile and fixed networks when they're watching TV or using the Internet, Peddy said. Potential benefits for the operator include customers who stay with the carrier for longer and pay more in the long run.
Some of the carriers themselves are skeptical. Telefonica SA Chief Operating Officer Jose Maria Alvarez-Pallete said this month that he didn't see the case for such packages yet. Last week, the company's U.K. mobile unit O2 said it's in early talks to sell itself to BT, the former U.K. phone monopoly.
Following France
Vodafone, the No. 3 wireless carrier in Britain, is also exploring its options, including a potential combination with John Malone's Liberty Global Plc, people familiar with the matter said last week. That came months after Vodafone's U.K. head said he wasn't convinced that consumers wanted quad-play packages.
In France, more than 60 percent of broadband users bought mobile as part of their package, and that's set to rise to more than 70 percent by 2017, researcher Analysys Mason said last year in a report. In Spain, more than 30 percent of broadband customers had a mobile bundle, a figure rising to more than 40 percent in the next three years, according to the report.
One reason why the U.K. may be so far behind is that there aren't that many offers yet, Peddy said. While Liberty Global's U.K. broadband and TV operator Virgin Media sells mobile service through a wholesale arrangement and some mobile carriers have started doing the same with Internet and video access, customers who want the bundles may have a hard time finding them.
"One of the problems with the U.K. is we haven't had the integrated offers," Peddy said. "That's the reason why BT's move last week was an integration catalyst."
Before it's here, it's on the Bloomberg Terminal.
LEARN MORE