Venture Capital: Sand Hill Road Rules the Valley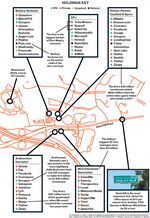 1946 Georges Frederic Doriot establishes the first institutional private equity investment firm, American Research and Development, to invest in businesses run by World War II veterans.
Sand Hill Road in Menlo Park, Calif., is synonymous with venture capital in the way Washington's K Street is with the lobbying industry. Since Kleiner Perkins Caufield & Byers became the first to hang its shingle in 1972, more than 20 other VC firms have set up headquarters there. Almost every prominent Silicon Valley company has received early-stage backing from one or more VCs on Sand Hill Road.
Before it's here, it's on the Bloomberg Terminal.
LEARN MORE