Tock's Pre-Paid Tickets Could Change the Way We Make Restaurant Reservations
By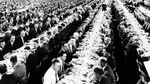 The French Laundry was a tough reservation. After weeks of getting a busy signal, my mother was the one who finally got through to a human being on the line and booked us for dinner. Two months later, we passed chef-owner Thomas Keller on the way in. Still annoyed, she said, "I must have called a hundred times! It's impossible to get a reservation here, you know!" Keller graciously apologized. Yes, he knew.
I spend a lot of my time on reservations now -- scheduling them, swapping them, hunting them down -- and I understand my mother's irritation. Even at restaurants where service is everything, the excruciating moments before you get a table can make you question if you really want to go there at all. Phone lines only take one call at a time, keeping everyone else waiting. OpenTable mostly tries to convince me that 5:30 in the afternoon is an appropriate dinner time. (No, it is not.) There are apps that deliver access to prime time tables (Resy, Zurvu) or let individuals sell spots they already have (Shout), but many of those come at an extra cost. I know people who enjoy things more when they are particularly complicated and hard to get, but I am not one of them.
Restaurants are dissatisfied with the reservation systems in place as well, though for different reasons.
Get Your Tickets
Restaurateur Nick Kokonas, a former derivatives trader who opened Alinea with Grant Achatz in 2004, noticed all kinds of inefficiencies and extra costs associated with the process and hired full-time developers to work on a proprietary software system. Tock, which now has a team of eight engineers, programmers, and analysts, was first piloted in Chicago to sell fully pre-paid tickets to dinner at Next, as if the dining room were a Broadway show.
Thirteen restaurants use the system now -- including Trois Mec in L.A -- which will roll out in its full capacity in 2015. Wd-50 in New York successfully used it to sell all of the seats at their last few nights of service, making over $100,000 in under 10 minutes.
According to Kokonas, the system can change the way a restaurant works internally. A full-time staff on reservations isn't necessary and the cost of no-shows is greatly reduced. If you've paid for a ticket, you show up, and the restaurant knows how to staff up and order food more precisely for that night. I also think it just makes for a better first impression of the restaurant when the reservation process is directly with its website and more transparent than a cryptic message from a third party. ("There's no availability within 2.5 hours of your requested time in the next 8 weeks…" Really?)
All-Inclusive Costs
When booking at Next, for example, you can look at a calendar and see at a glance which tables are available along with how much each costs, including in this case a 20-percent service charge and tax (some tables, like say on New Year's Eve or prime time on a Friday, will be more expensive than others).
Tock is associated with pre-paid tickets to tasting menus, but the reservation software, which will cost restaurants a flat fee of $695 a month and be free to users, will be customizable and also offer other types of bookings, including partial non-refundable deposits and regular reservations (which are free). It's up to each restaurant how to use it.
Neighborhood Joints
I hope neighborhood restaurants always leave room for walk-ins, but I don't mind the idea of putting down a deposit to hold a prime table when it goes not just to the restaurant, but toward paying my bill. At Tuck Shop in Phoenix, a place that serves cheese curds and pasta fries, a sum of $20 will hold a table for four then be subtracted from your bill. If you don't show up, it becomes a cancellation fee instead.
It's not clear yet how diners will respond, or how many restaurants will even go for the full pre-paid or deposit elements of Tock (though when Kokonas implemented the system at Aviary, his high-end Chicago bar, he saw no-shows go from just under 12 percent to below 1 percent).
And as we see more high-profile restaurants adopt tickets and deposits next year, this way of booking a table may start to feel more like a standard, and less like a quirk of fine dining.
"We've had over 200 inquiries in 48 hours from restaurants around the world," Kokonas wrote in an email after this week's announcement that Thomas Keller, an investor in Tock, would also be switching both The French Laundry and Per Se over in 2015.
Before it's here, it's on the Bloomberg Terminal.
LEARN MORE