A Couch Potato's Guide to the 16 Best Super Bowl Ads of All Time
1967: Sixty-five million Americans tune in to Super Bowl I—at the time the most ever for a sporting event.
By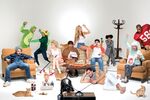 1967 Sixty-five million Americans tune in to Super Bowl I—at the time the most ever for a sporting event.
With an audience of 111.5 million viewers, the 2014 Super Bowl was the most watched TV show in U.S. history. As the number of at-home spectators soars, so too have the rates advertisers pay to reach them: A 30-second spot in 2014 went for $4 million. Here's a couch potato's guide to what after-game polls have deemed the most memorable Super Bowl commercials.
 
 
Not-to-be skipped ads
1973: Joe Namath and Farrah Fawcett for Noxzema
1976: Xerox's monks
1979: "Mean" Joe Greene for Coke
1984: Apple's board balked at the Ridley Scott-directed "1984" spot, but it spurred strong initial sales of the first Macintosh computer, even though it aired only once. Hear Lee Clow tell the real story behind Apple's 1984 Super Bowl ad here.
1984: A 1984 ad from Wendy's immortalized the phrase "Where's the beef?" The tag line worked its way into the Democratic primary pitting Walter Mondale vs. Gary Hart.
1992:Pepsi enlisted supermodel Cindy Crawford in 1992 to herald its redesigned can.
1995: Two years after its Bud-wei-ser frogs were a hit during the 1995 Super Bowl, Budweiser hired Goodby Silverstein & Partners to kill off the amphibians. "We settled on lizards," says agency co-founder Jeff Goodby. "They would be like Goodfellas-type characters. Jersey guys. So we cast the thing, and it sounded like these guys were really going to kill the frogs. It wasn't funny, it was scary! So we went, 'Oh s–‍–‍–, it's not funny!' "
1998: Tabasco's exploding mosquito
1999: With such memorable lines as "When I grow up I want to claw my way up to middle management," a 1999 spot put online job search board Monster.com on the map.
2000: EDS cat herders
2003: Reebok's 2003 ad featured "office linebacker" Terry Tate, who terrorized the residents of a cubicle farm.
2008: ETrade's creepy yet mesmerizing talking baby made his debut during the 2008 Super Bowl, kicking off a seven-year run.
2010: Old Spice's "Smell Like a Man" campaign made its debut during the 2010 game, creating buzz for a brand that seemed washed up.
2010: Betty White for Snickers
2011: A Volkswagen ad featuring a pint-size Darth Vader was shared a record 5.2 million times on social media.
2014: Doritos time machine
Before it's here, it's on the Bloomberg Terminal.
LEARN MORE