Sears Loss Widens to $548 Million as Sales Keep Sliding
Lauren Coleman-Lochner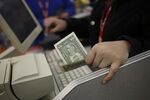 Sears Holdings Corp. posted a wider third-quarter loss as Chief Executive Officer Edward Lampert works to reshape the department-store chain.
The net loss widened to $548 million, or $5.15 a share, from $534 million, or $5.03 a share, a year earlier, the Hoffman Estates, Illinois-based retailer said today in a statement. Revenue in the three months ended Nov. 1 slid 13 percent to $7.21 billion.
Lampert, who's also the retailer's chairman and largest shareholder, has sold and spun off assets to raise cash amid more than three years of losses and 31 straight quarterly sales declines. The strategy to revive profitability entails shrinking the chain's store base, including plans to close 235 locations this year, while boosting sales online and through its shopper-loyalty program. Sears said last month that it may raise money by selling and leasing back as many as 300 stores.
"It doesn't solve anything for them," Matt McGinley, an analyst at Evercore ISI in New York, said in a telephone interview before the results were released. "It just buys time."
Sears fell 4.4 percent to $32.75 at the close in New York. The shares have slid 11 percent this year.
Sears will need about $4 billion in new capital to avoid running out of cash in 2016, Fitch Ratings said in a September report.
Sale-Leaseback
McGinley, whose firm recommends selling Sears shares, estimates that the retailer could bring in about $1.9 billion from the sale-leaseback transaction. He said he expects the company's cash consumption to accelerate next year and estimates it will burn $1.6 billion in free cash flow this year.
Sears had $326 million in cash at its domestic operations as of Nov. 1, compared with $384 million a year earlier.
The quarterly sales decline was due in part to continued store closings and the spinoff the Lands' End clothing unit in April. Sales at stores open at least a year, considered a key gauge of performance, rose 0.5 percent at Kmart and declined 0.7 percent for domestic Sears stores.
Sears said in a recorded call and accompanying slide presentation that its store-closing plans may help blunt its losses.
"Our analyses show that when we close a store, we retain a significant percentage of our Shop Your Way members who visited the store," the company said. The closings, along with the continuing customers, could boost earnings before interest, taxes, depreciation and amortization by as much as $400 million a year, Sears said.
Optimistic Assumptions
Those assumptions are optimistic, McGinley said in an interview today.
"This is saying you can close stores that are unprofitable and magically transform these customers that are no longer at that store into a highly profitable customer with a margin profile that looks nothing like the rest of the company," he said.
Sears said last month that it would report a third-quarter net loss of $590 million to $630 million and unchanged comparable-store sales. The company has posted only one quarterly comparable-store sales gain since Lampert merged Sears Roebuck & Co. and Kmart Holdings Corp. in 2005.
Before it's here, it's on the Bloomberg Terminal.
LEARN MORE