Sanofi U.S. Sales Executive Leaves After Insulin Forecast
Albertina Torsoli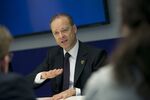 A Sanofi executive overseeing sales of diabetes medicines to doctors in the eastern U.S. has left the company, weeks after the drugmaker fired its CEO and said revenue from its best-selling insulin will be flat next year, according to people familiar with the matter.
Bob Rossilli, who worked at the Paris-based company's offices in Bridgewater, New Jersey, left his job the week of Nov. 17, said the people, who asked not to be identified discussing private company matters.
Jack Cox, a spokesman for Sanofi, confirmed that the executive left and declined to comment on reasons for the departure. Rossilli couldn't immediately be reached for comment. His responsibilities are now overseen by Scott Oehrlein, vice president and head of U.S. general medicines sales, Cox said.
Sanofi surprised investors on Oct. 28 with a tepid forecast for Lantus insulin, and ended Chief Executive Officer Chris Viehbacher's six-year tenure the next day. Rossilli was hired under Viehbacher and both are former GlaxoSmithKline Plc managers.
Before he was fired, Viehbacher told investors that Sanofi cut Lantus prices last quarter to get on U.S. drug benefit managers' reimbursement lists in the face of competition from Novo Nordisk A/S, the world's biggest insulin maker.
Lantus, which last year garnered 5.72 billion euros ($7.04 billion) in sales, starts losing patent protection next year. The drugmaker said on Nov. 20 that revenue from diabetes treatments, which currently account for more than one-fifth of sales, will be flat to slightly higher through 2018, below analysts' expectations.
Sanofi shares fell 3 percent, after rising earlier in the day, to close at 75.50 euros in Paris trading. The stock has declined 2.1 percent this year.
While Sanofi is currently being led by Chairman Serge Weinberg, other changes are taking place as the company awaits a new CEO.
Cox confirmed that Antoine Ortoli, senior vice president of intercontinental global operations, will retire at the end of the year and be replaced by Jerome Silvestre, who for now also retains his role of senior vice president of the global generics division. He will report to Peter Guenter, executive vice president of global commercial operations.
Ex-Employee Lawsuit
Separately, Sanofi was sued yesterday in state court in New Jersey by a former paralegal, Diane Ponte, who worked in Bridgewater. Ponte claimed she was fired after complaining the drugmaker illegally paid $34 million in kickbacks to induce physicians, hospitals and pharmacies to switch to its diabetes drugs.
She alleged Viehbacher was among those at the company who engaged in the scheme, which involved contracts that went to outside vendors. Ponte, who sued under the New Jersey Conscientious Employee Protection Act, claimed she was subjected to a "severe and pervasive pattern of workplace retaliation" before she was fired on Oct. 29.
"The employment law allegations are without merit," Mary Kathryn Steel, a spokeswoman for Sanofi, said today in an e-mail about Ponte's suit. "We take this matter very seriously and will protect our company and our reputation."
(Corrects Rossilli's job description in first paragraph of article published Dec. 4.)
Before it's here, it's on the Bloomberg Terminal.
LEARN MORE