Peter King Says Eric Garner's Obesity Contributed to His Death
It's another inflammatory remark from the New York congressman.
By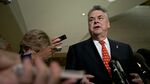 Representative Peter King lit up social media on Wednesday when he said Eric Garner may not have died following a police chokehold if he had not been "so obese." 
"I feel strongly that police officer should not have been indicted," said the New York Republican on CNN. "I've been following this case from the start. You had a 350-pound person who was resisting arrest. The police were trying to bring him down as quickly as possible. If he had not had asthma and a heart condition and was so obese, he almost definitely would not have died from this."
"The police had no reason to know that he was in serious condition," King added.
His comments came hours after a grand jury declined to charge Officer Daniel Pantaleo in the death of Garner, 43, whose fatal altercation with police happened after he was stopped on suspicion of selling untaxed cigarettes. The incident was captured on video, and the grand jury's decision has provoked widespread, bipartisan outrage.
King, who has toyed with the notion of running for president, is no stranger to strong opinions. Throughout his 21 years in the House of Representatives, King has shown he's unafraid of ruffling the feathers, even within his own party. In one of his most notable moments, the 70-year-old urged his Long Island constituents not to contribute to the National Republican Congressional Committee when Speaker John Boehner adjourned the 112th Congress without voting on a spending bill that would provide disaster aid to areas affected by Hurricane Sandy. King said it was a "cruel knife in the back" to New York and New Jersey.
Here are some of King's other memorable eruptions: